SCA's Christmas Chess Tournament 2017
Harrow International School Shanghai
10 December 2017
145 participants competed in SCA's largest interschool chess tournament so far, representing 25 schools across the city.
Silence before the storm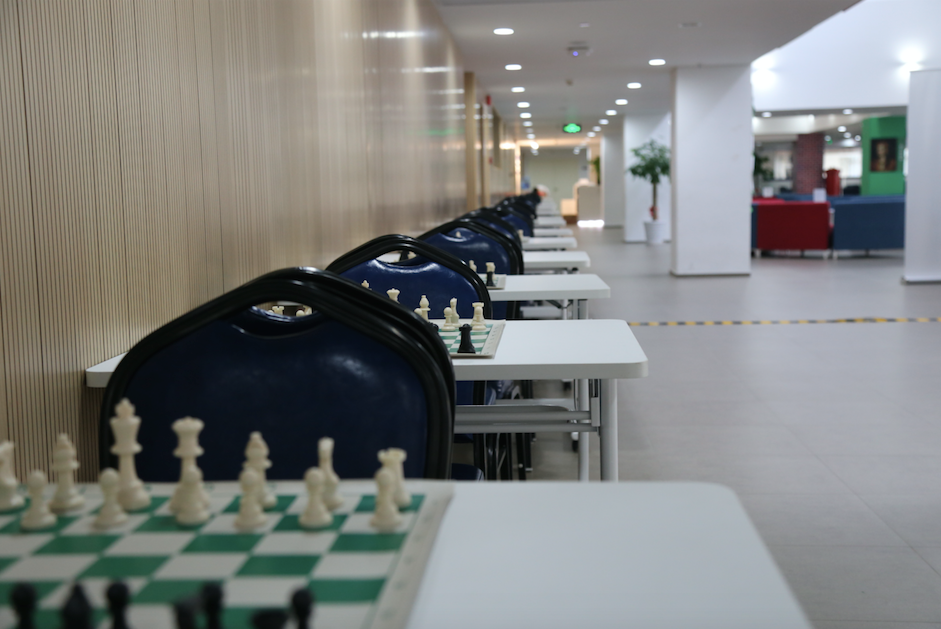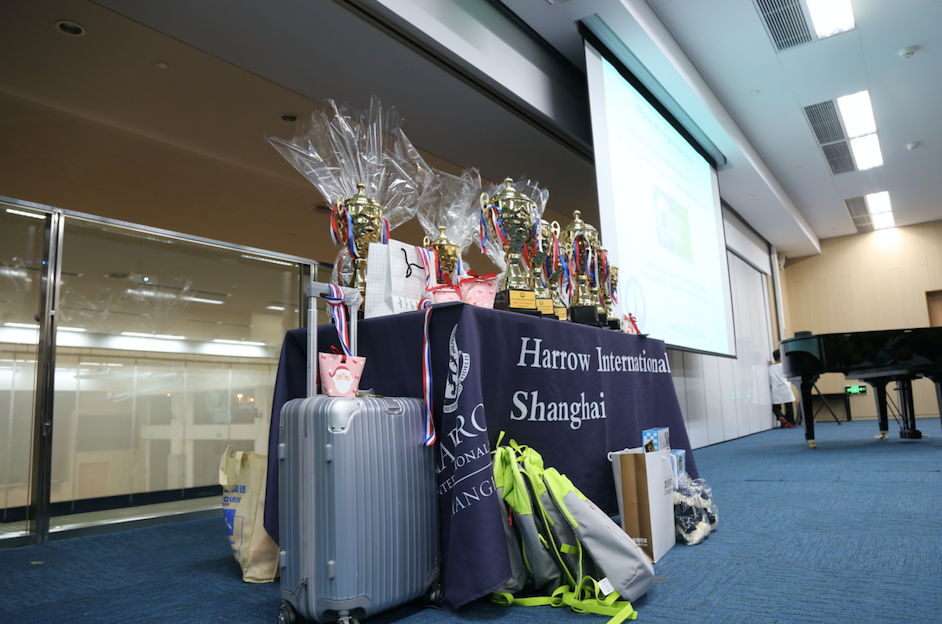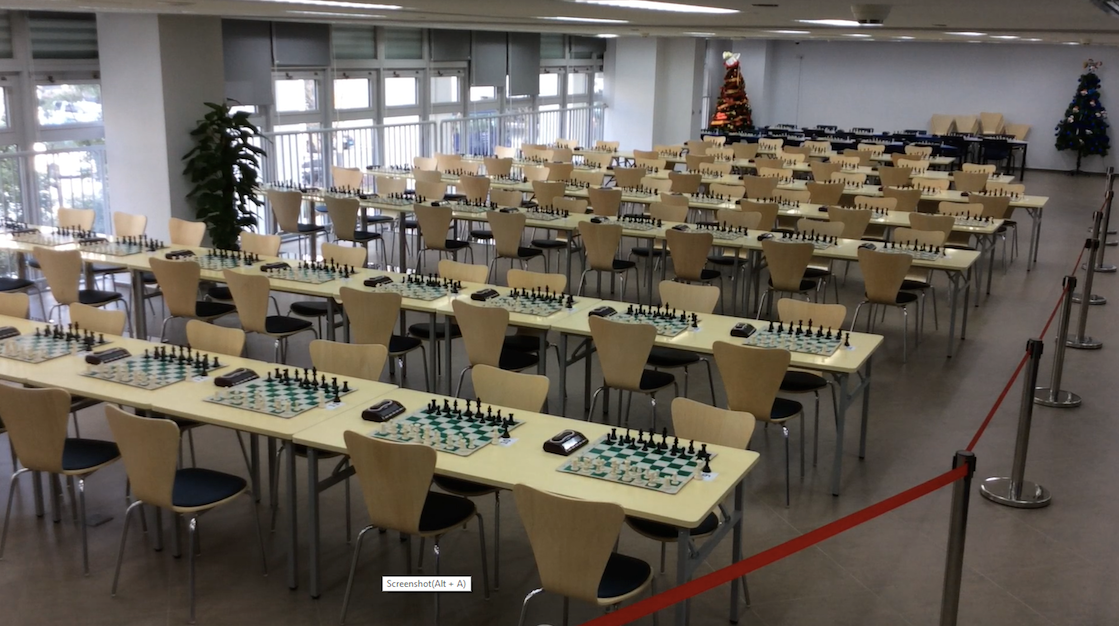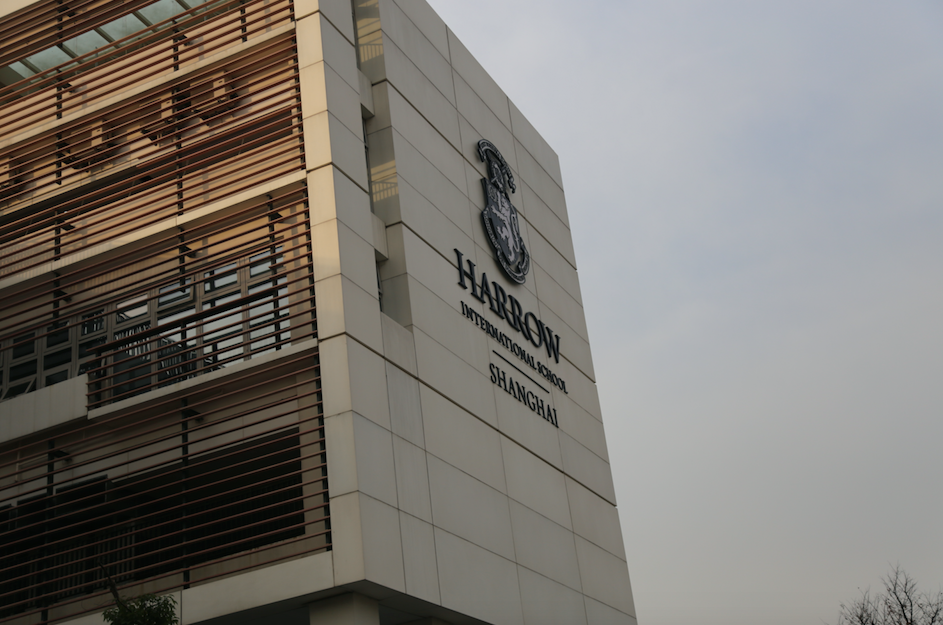 Arriving at Harrow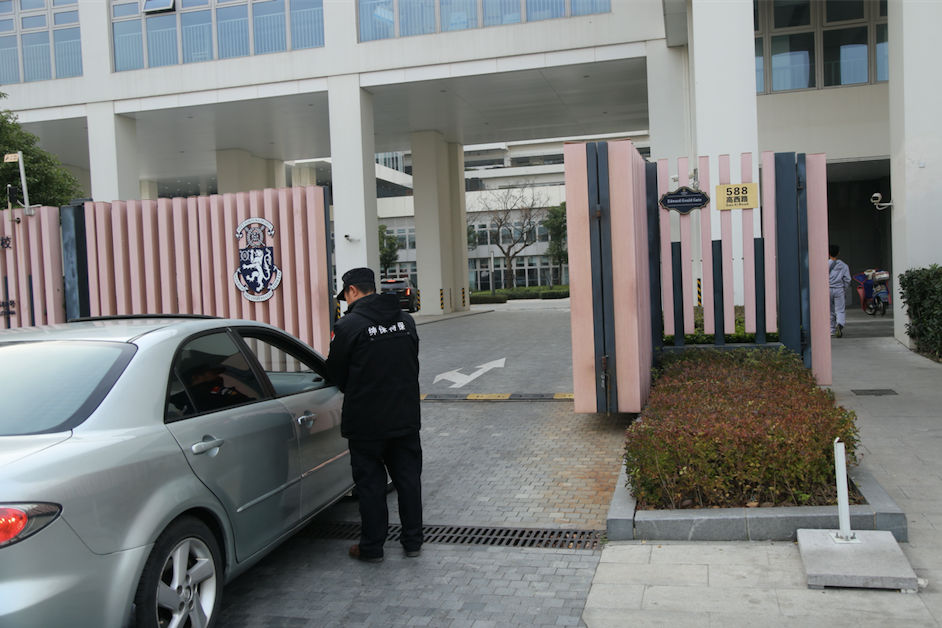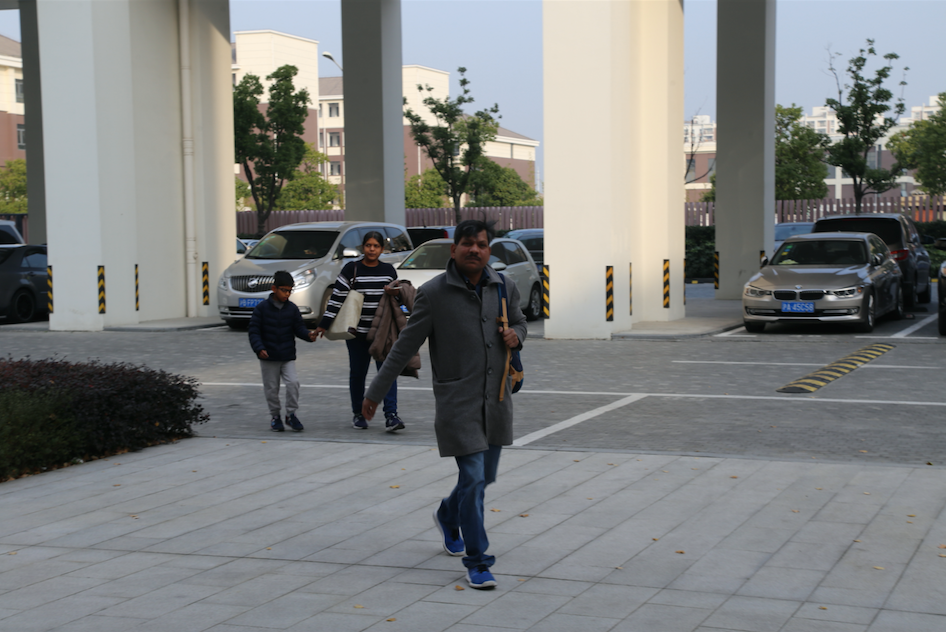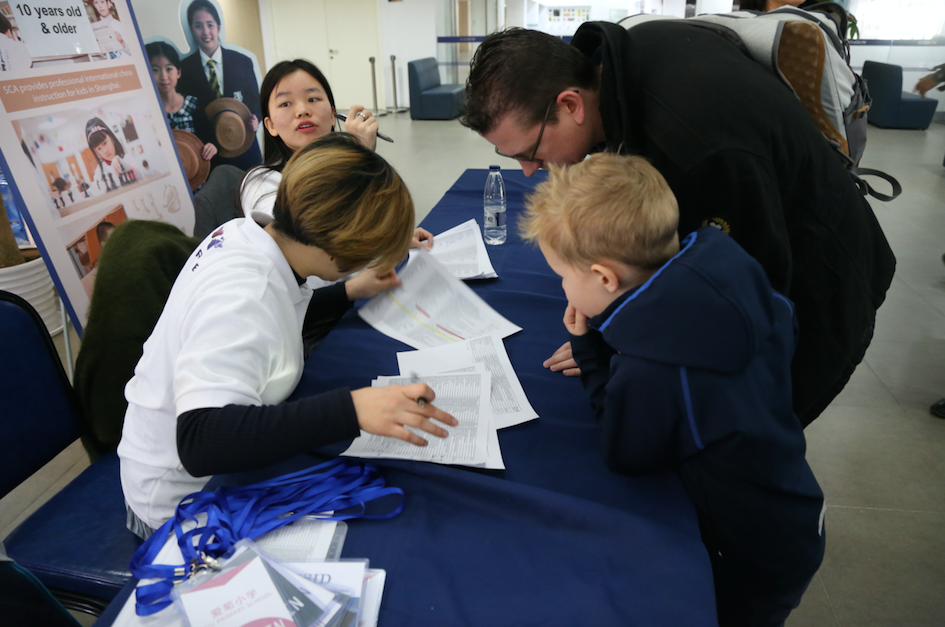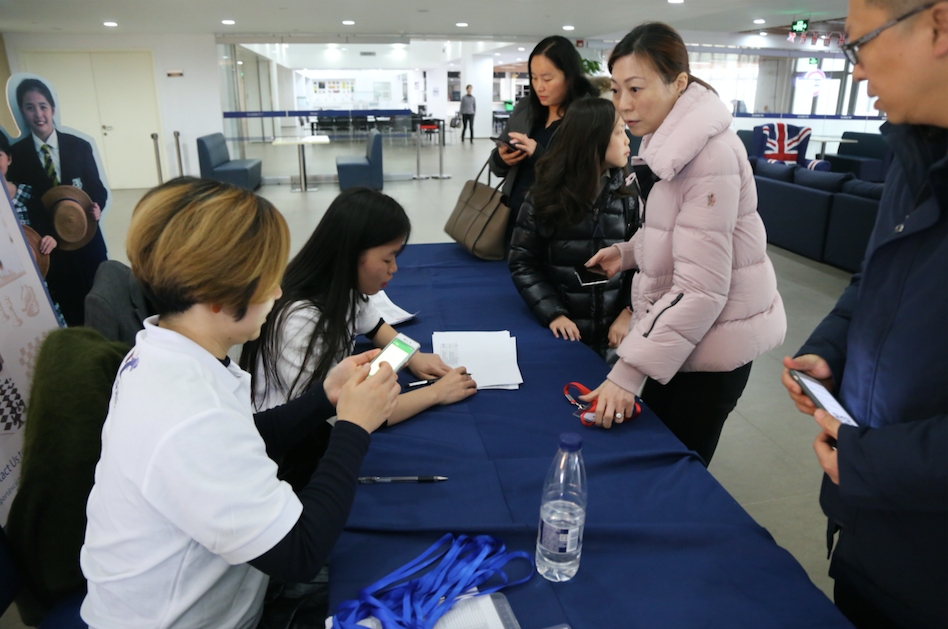 Opening Ceremony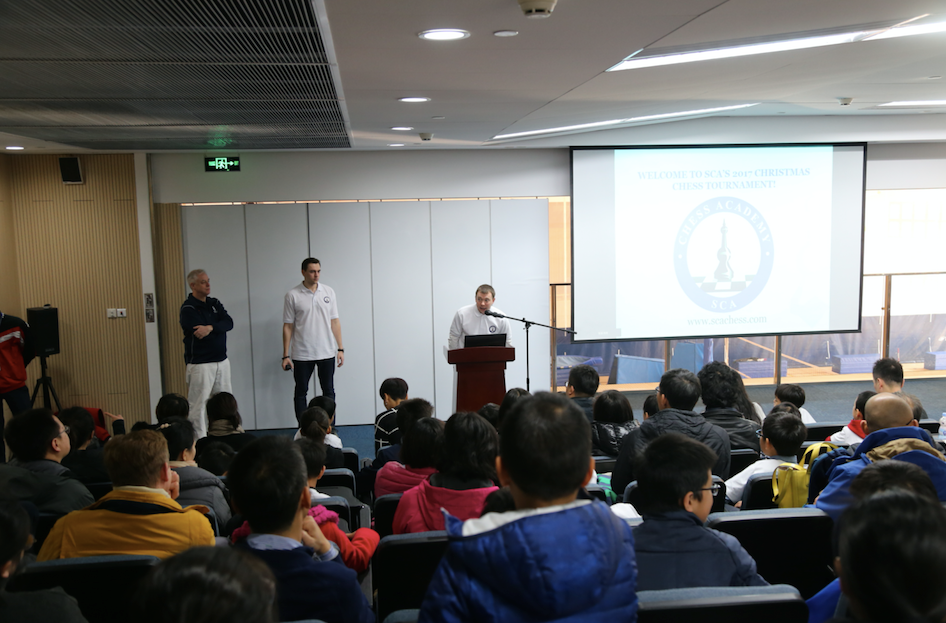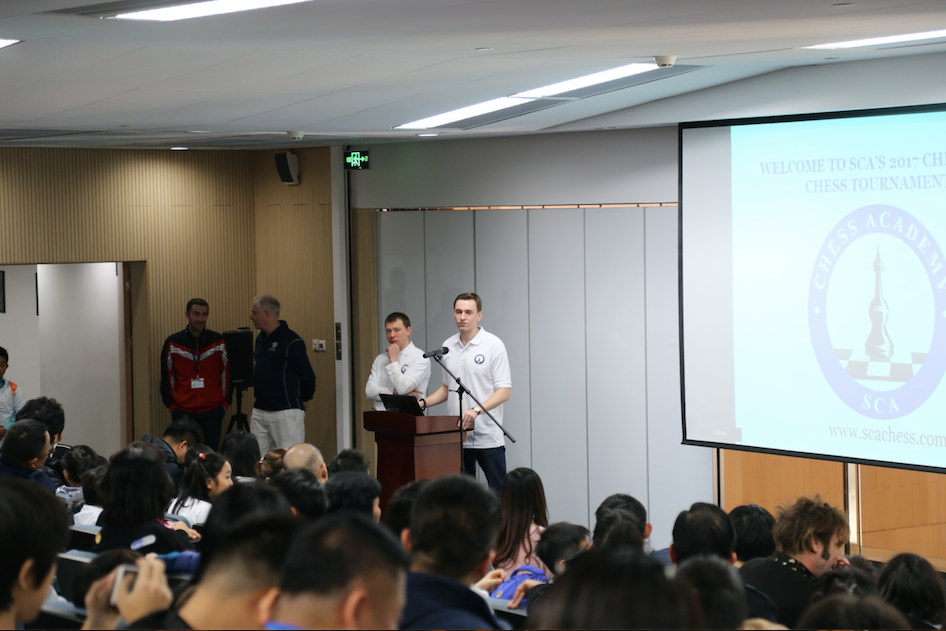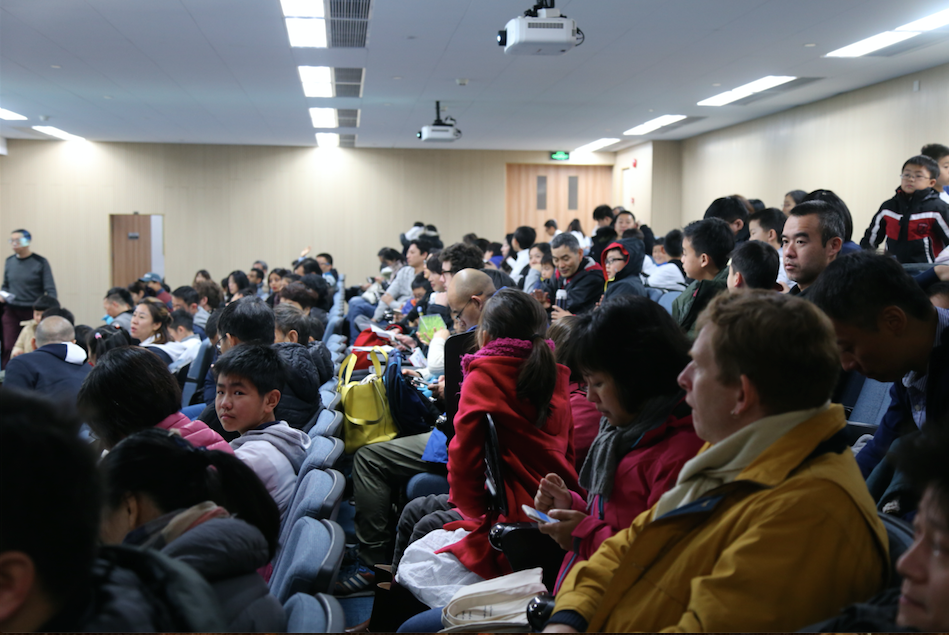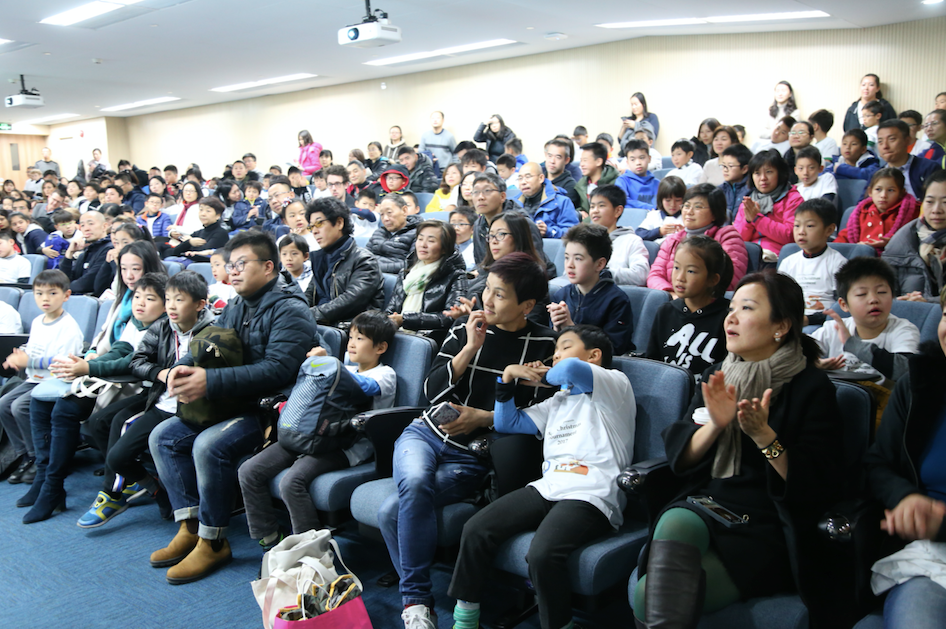 Just Before the Battle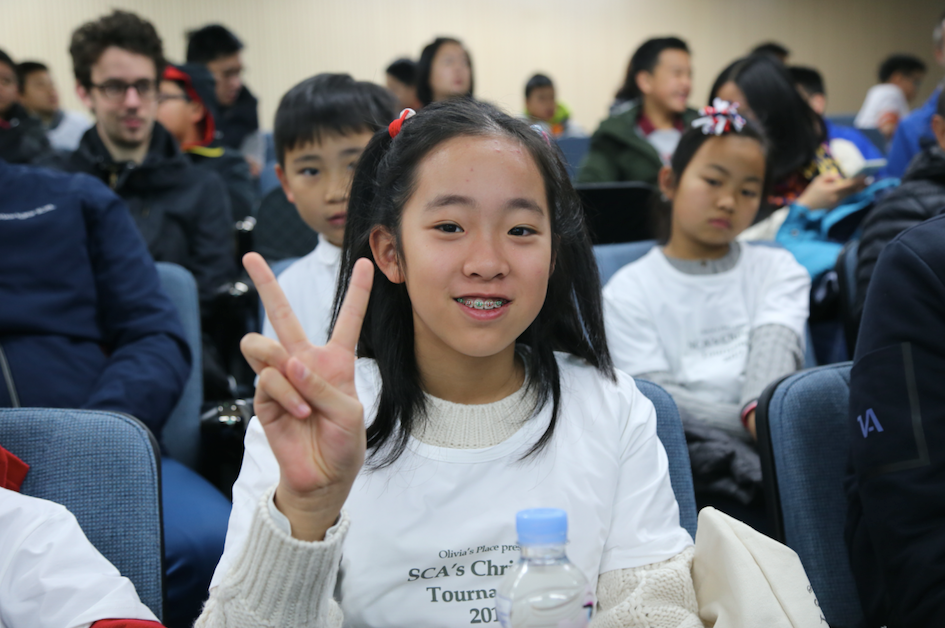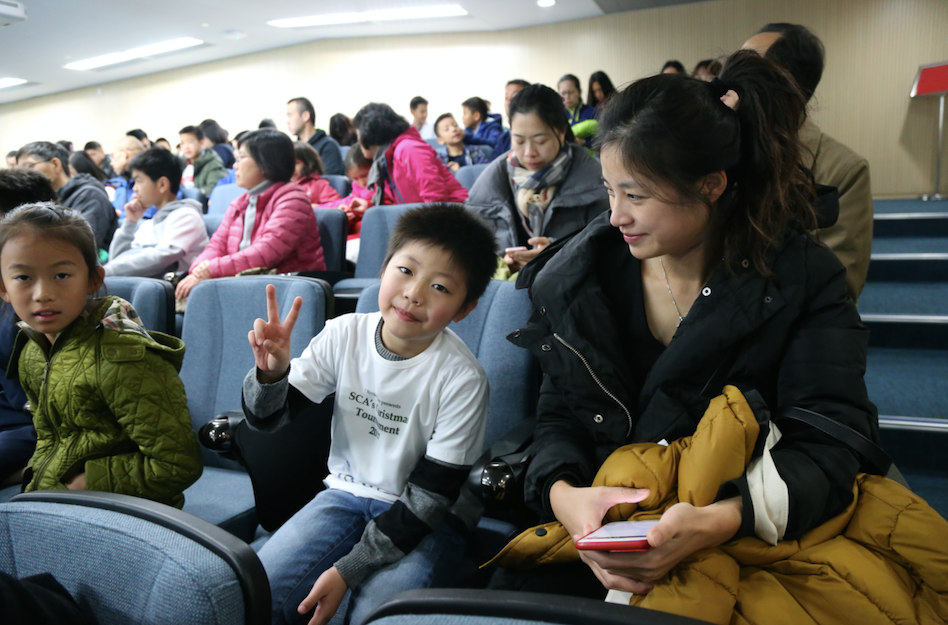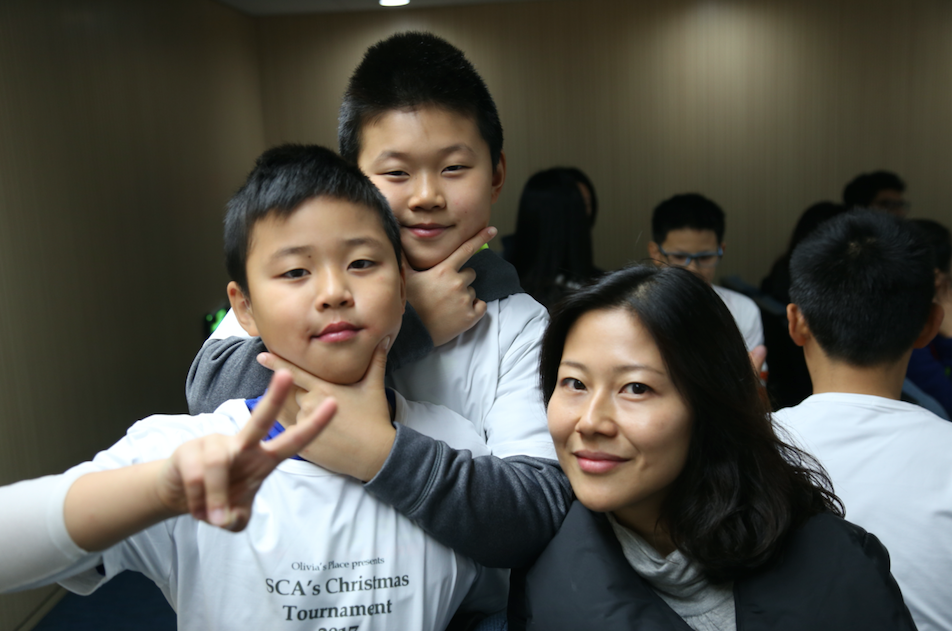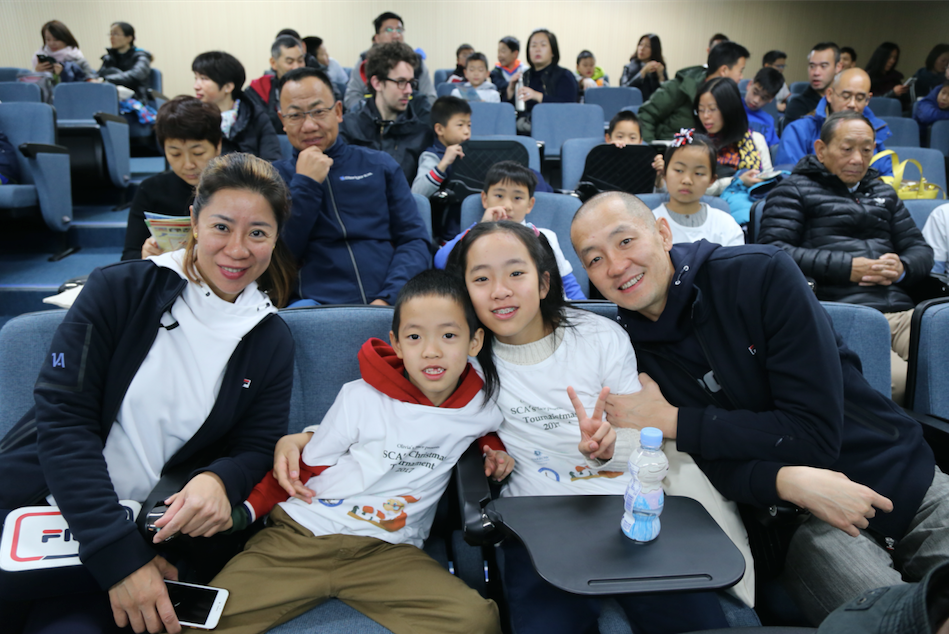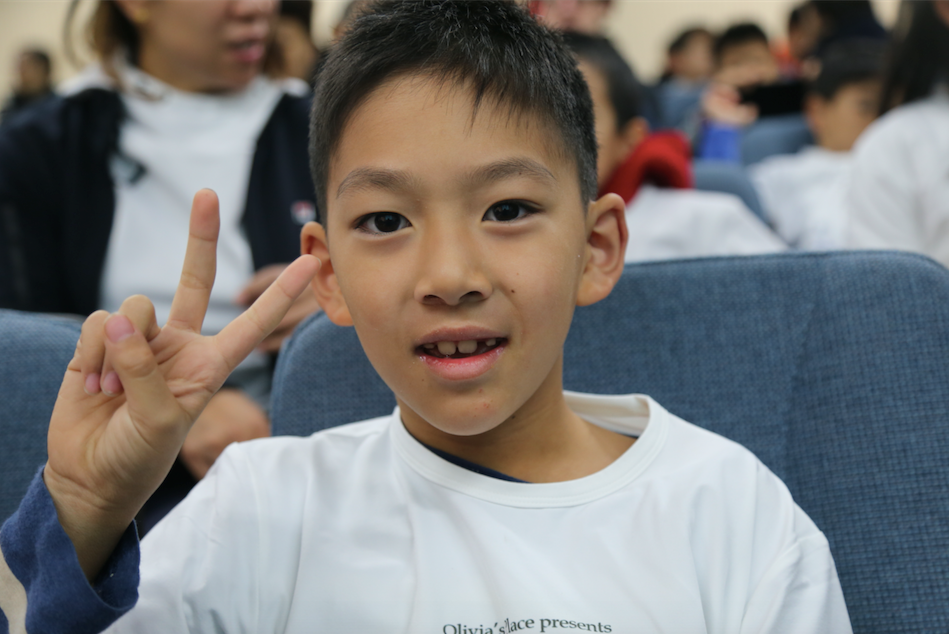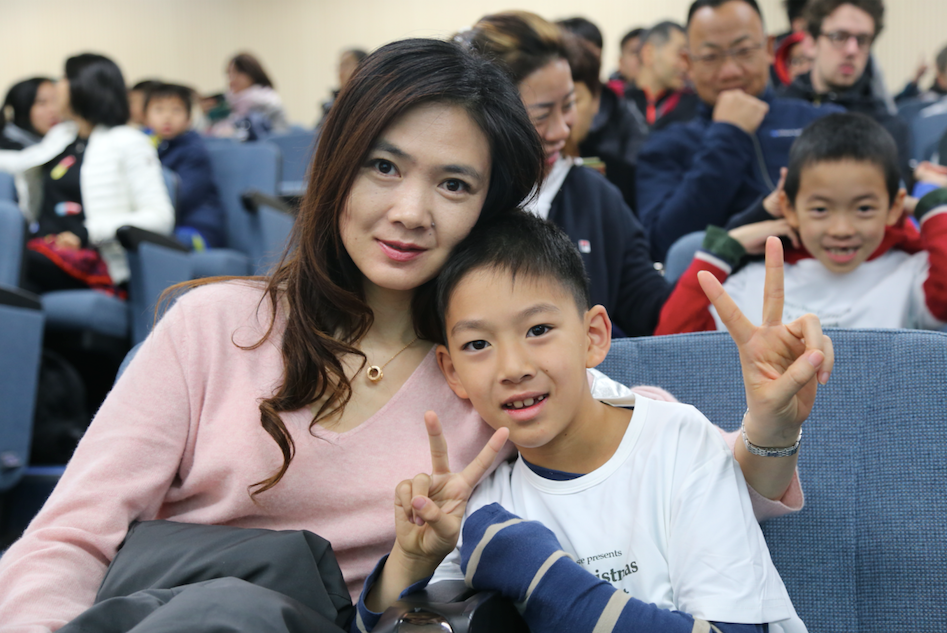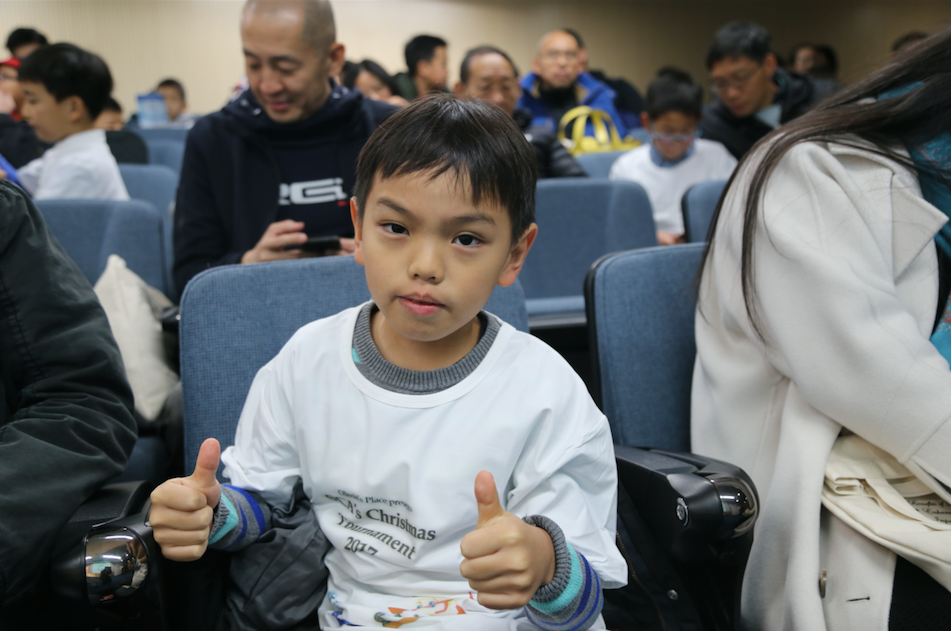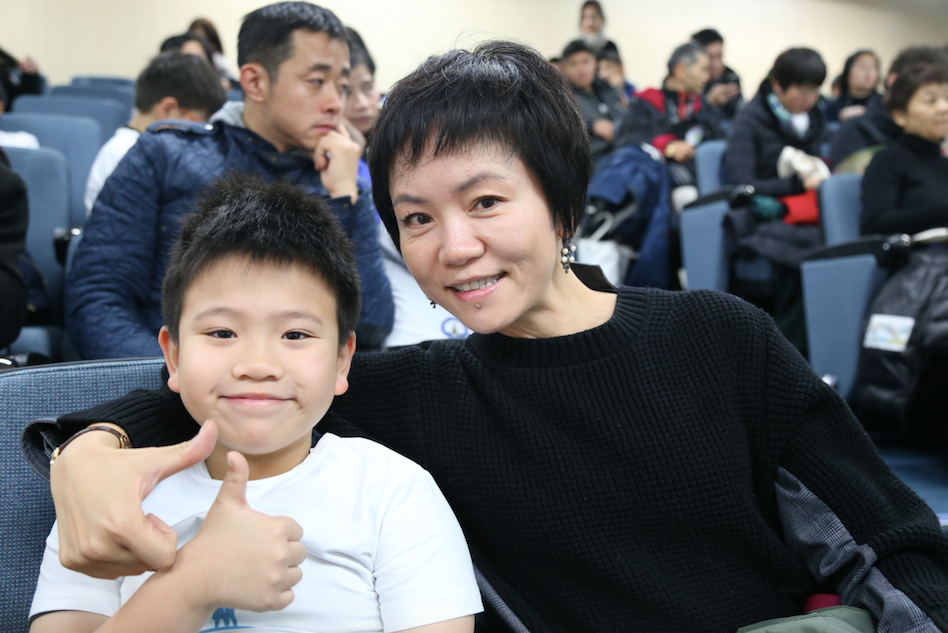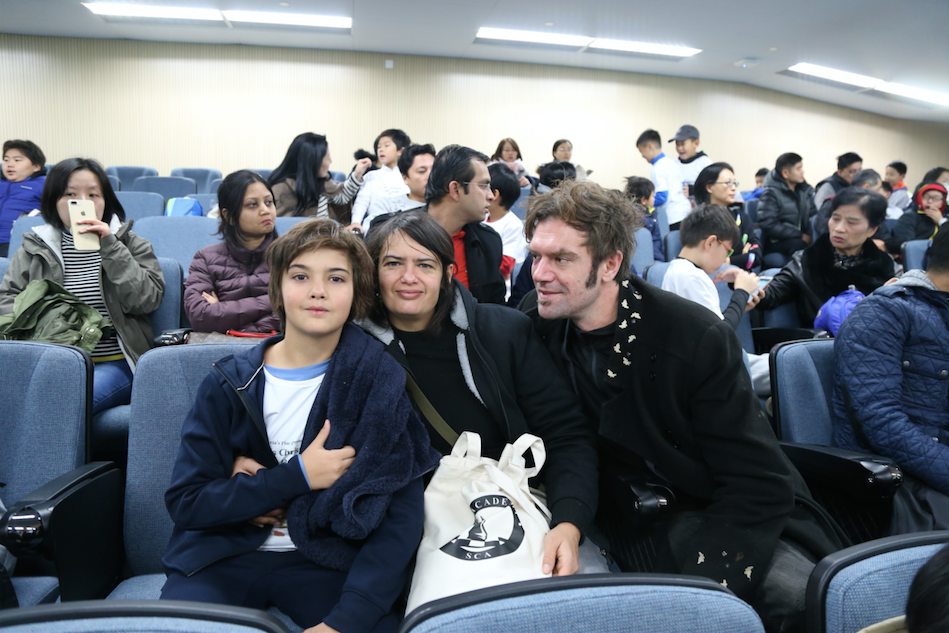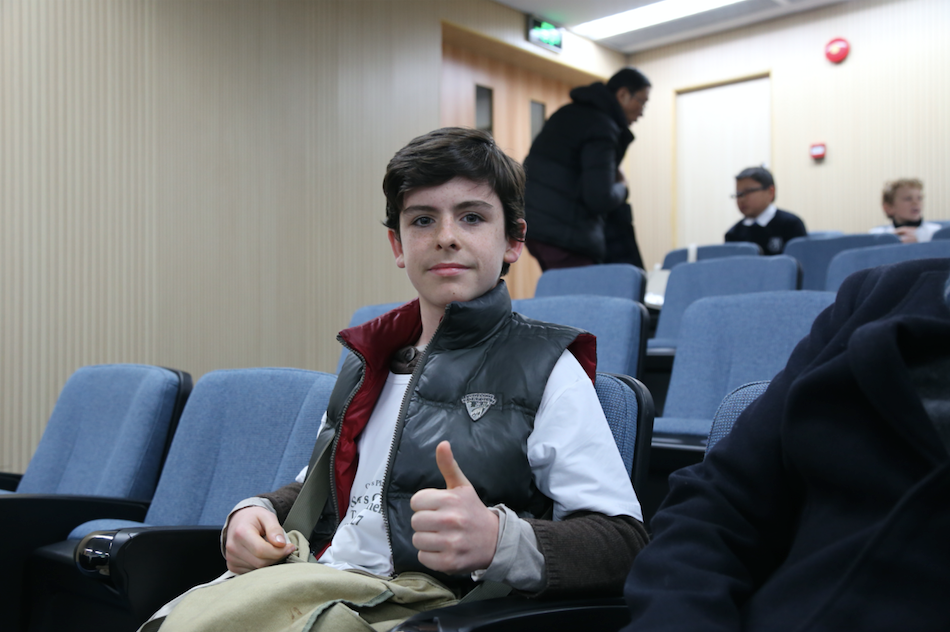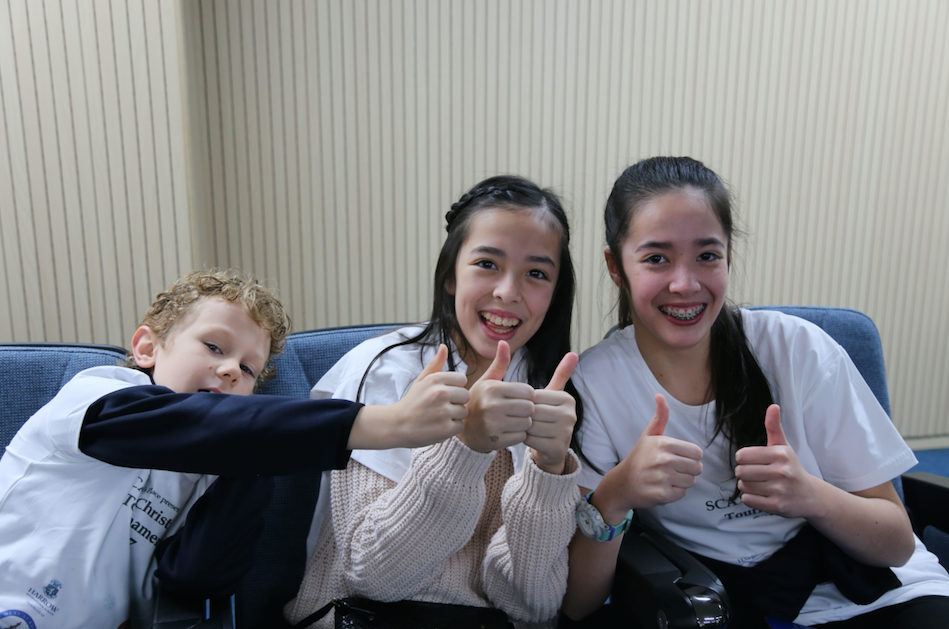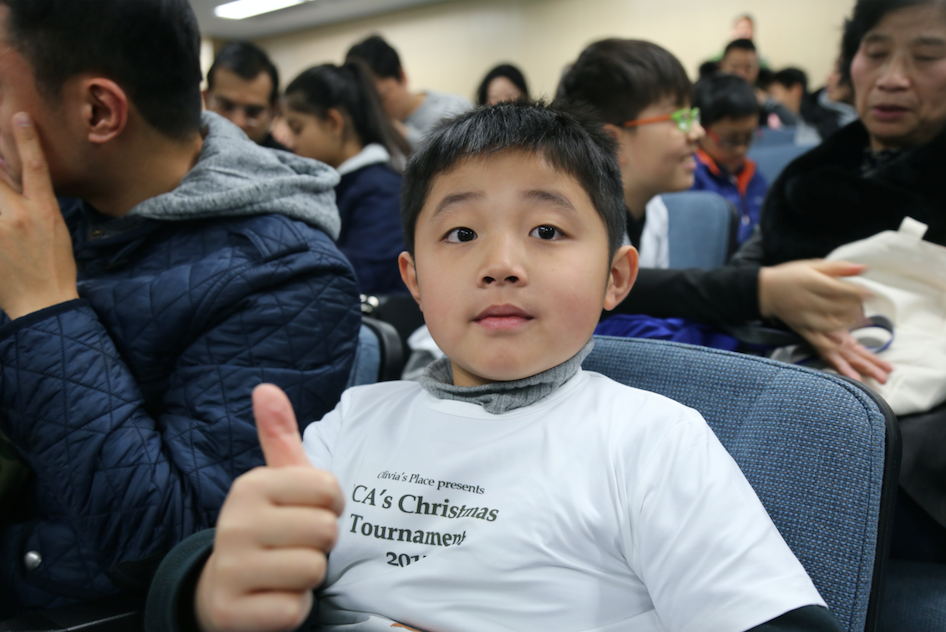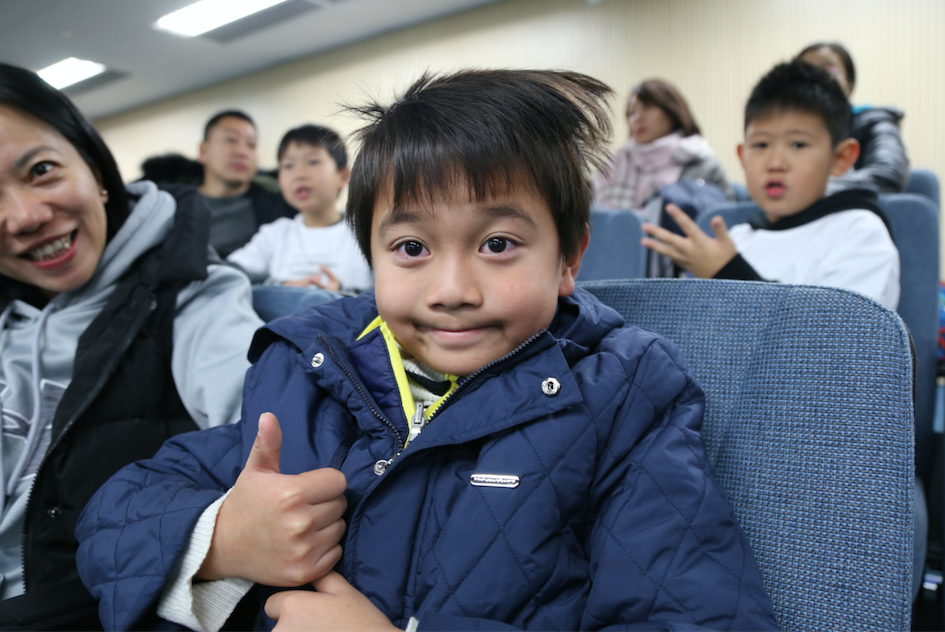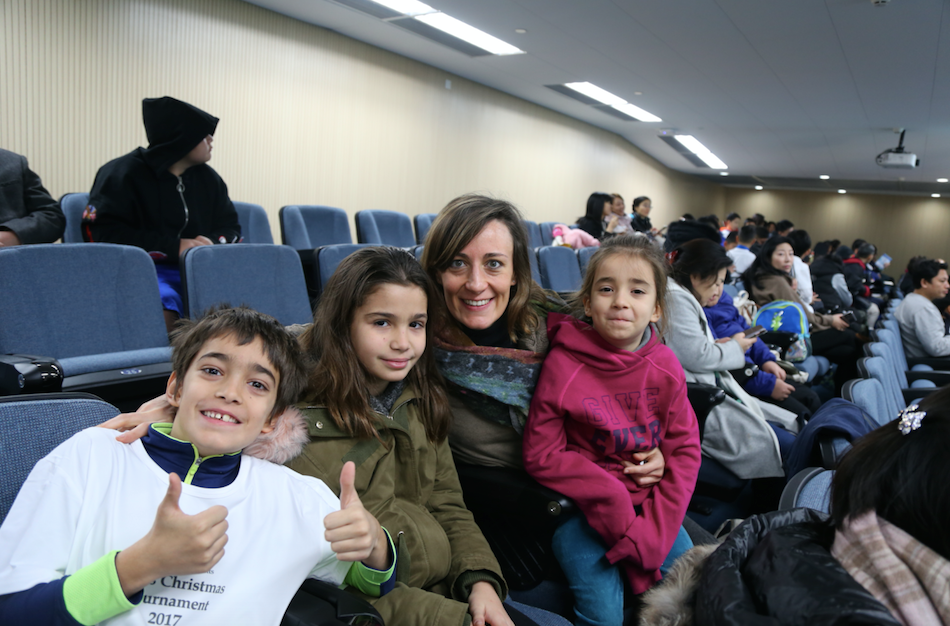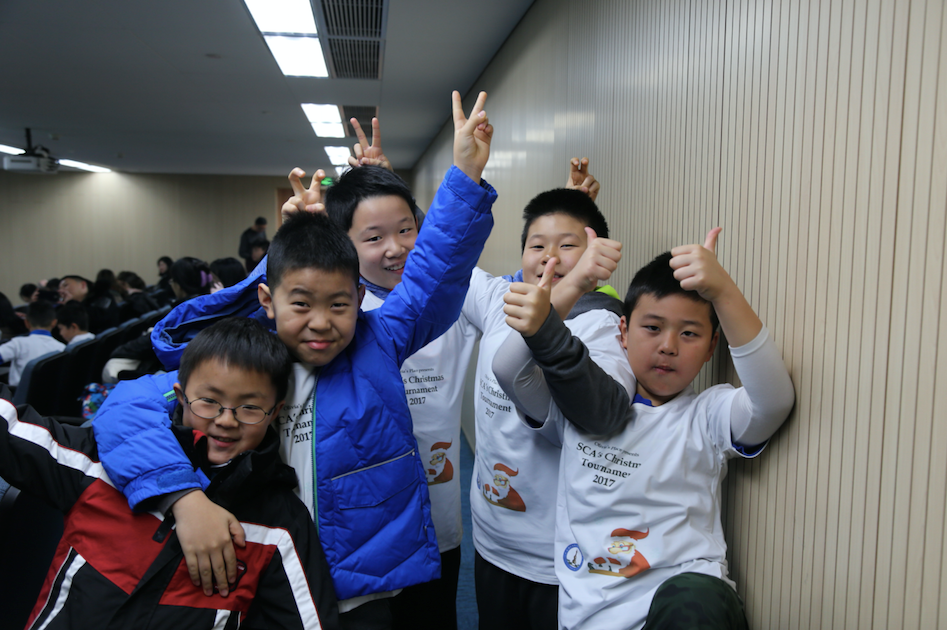 Games
8 rounds for "OPEN" and 5 rounds for "Under 6" were played throughout the course of the day.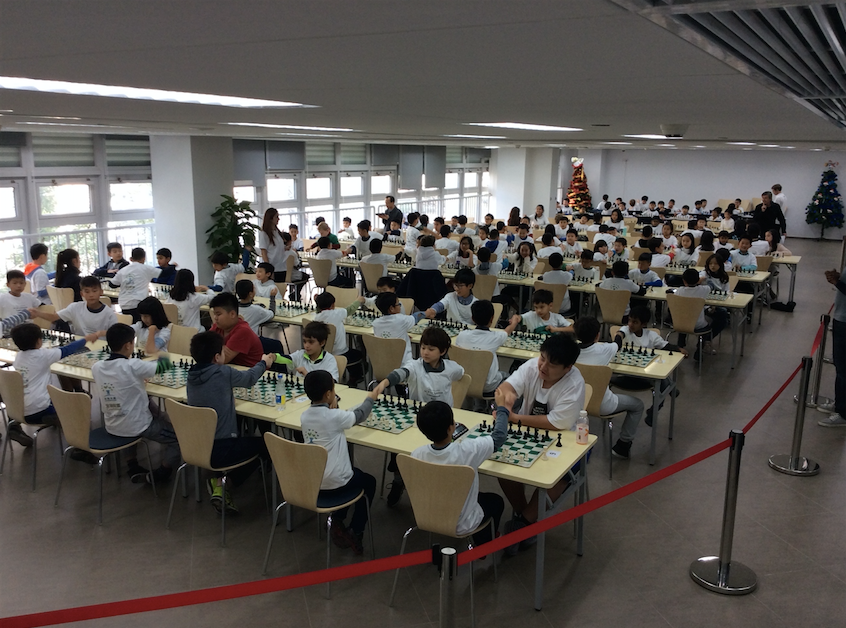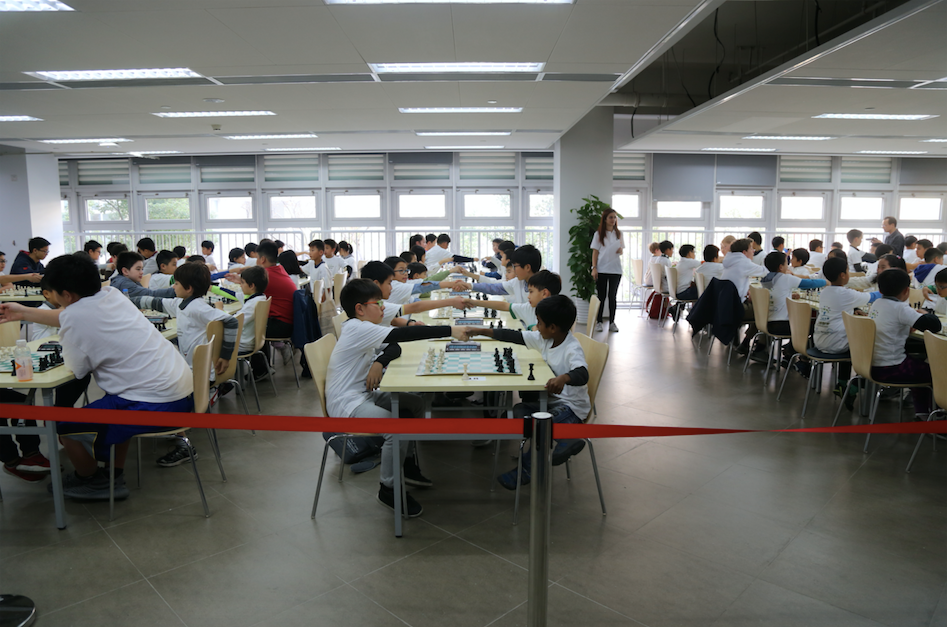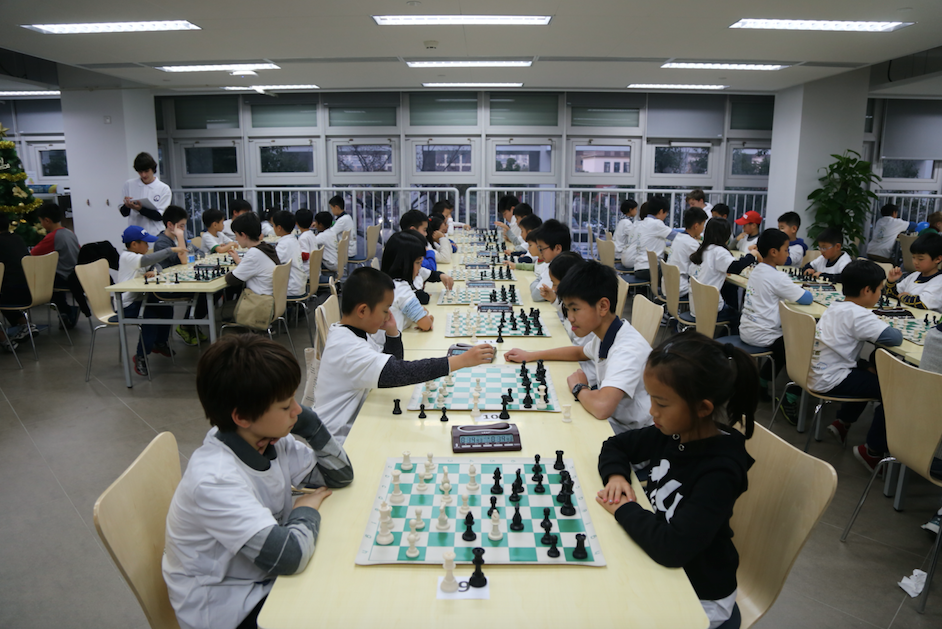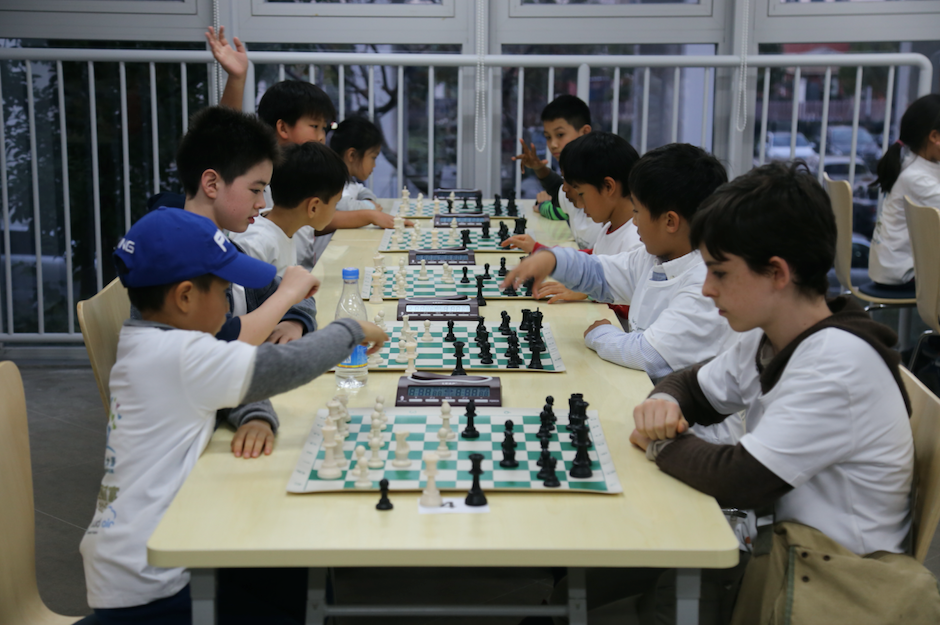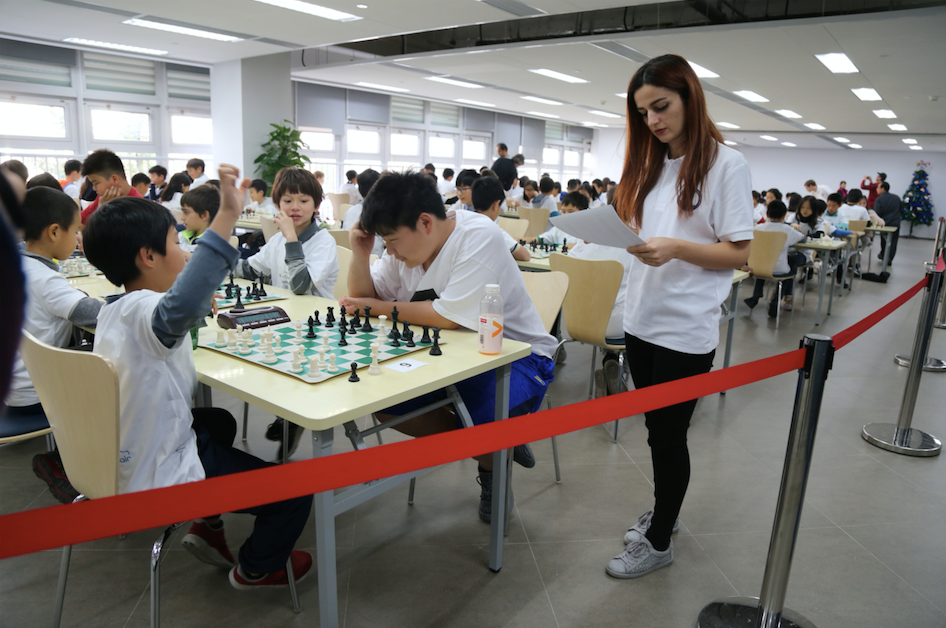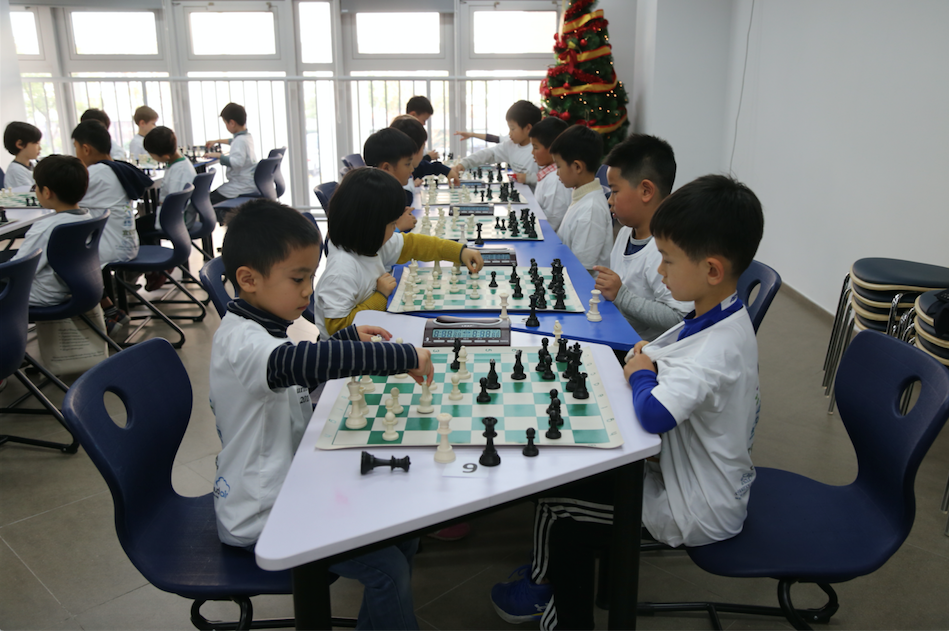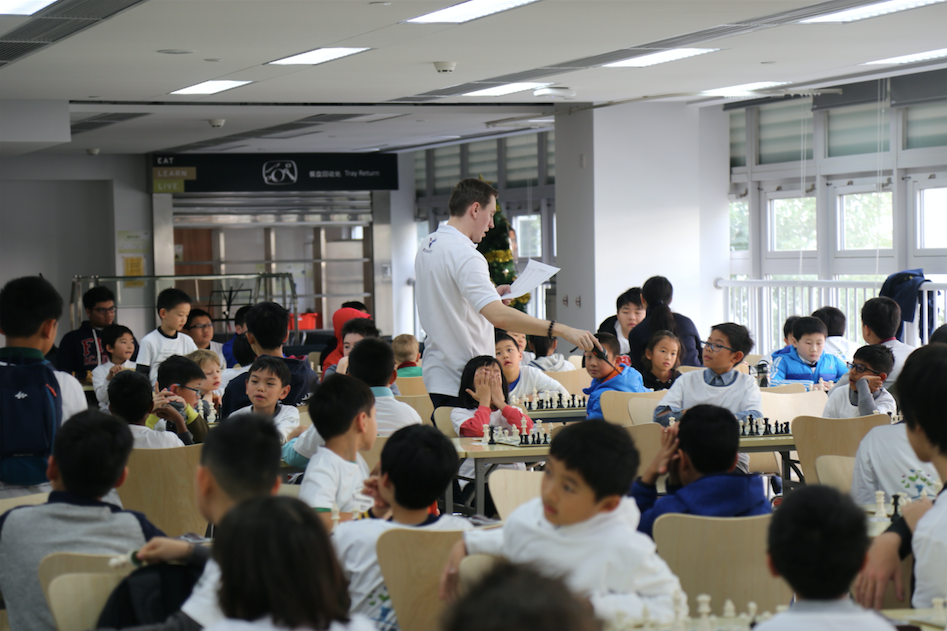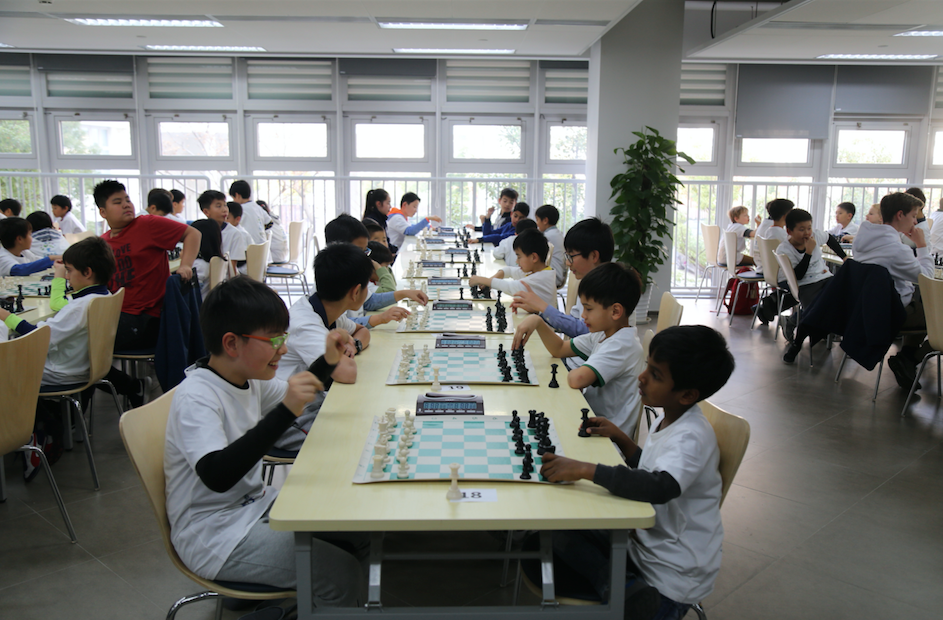 Parents during the games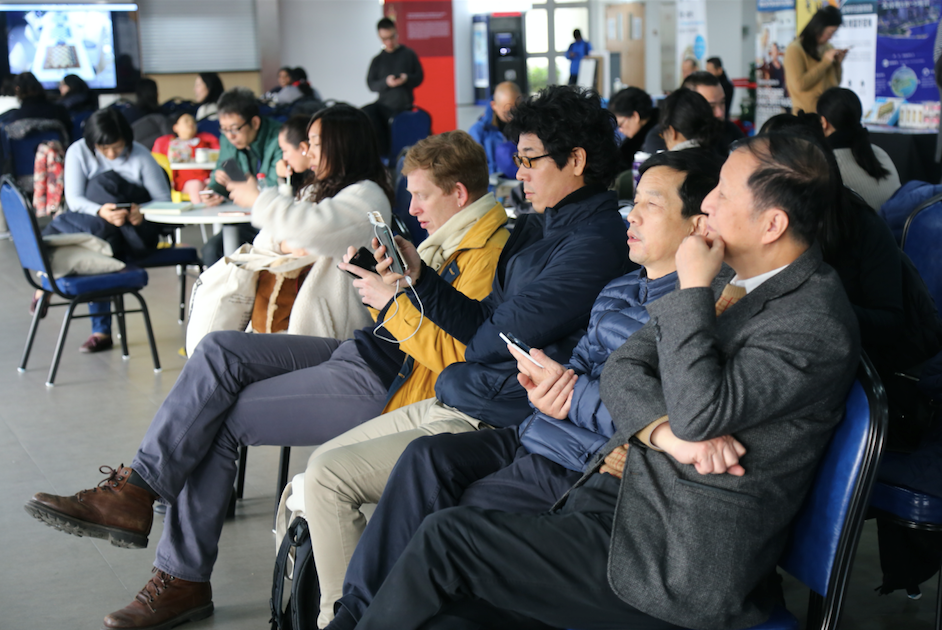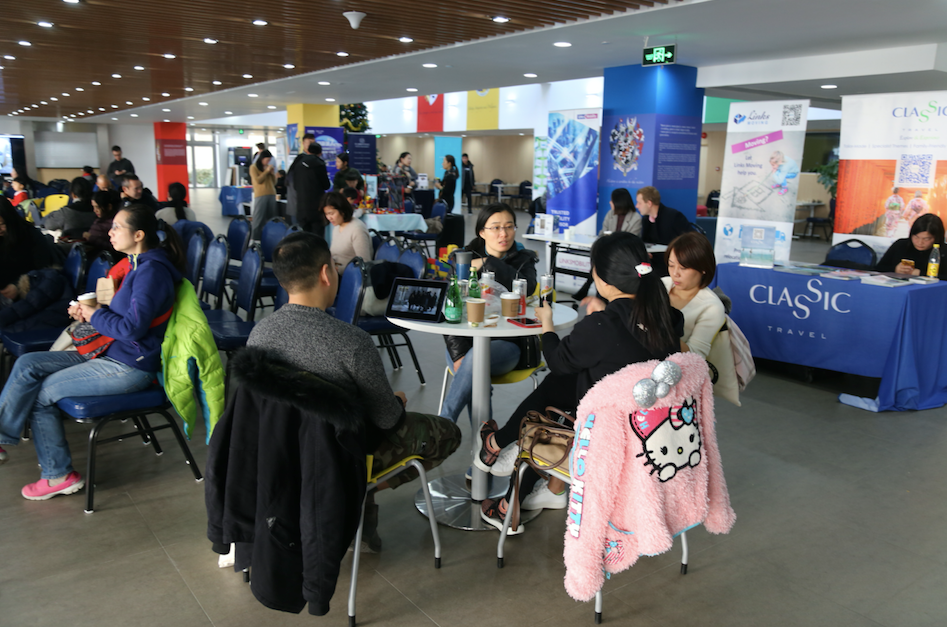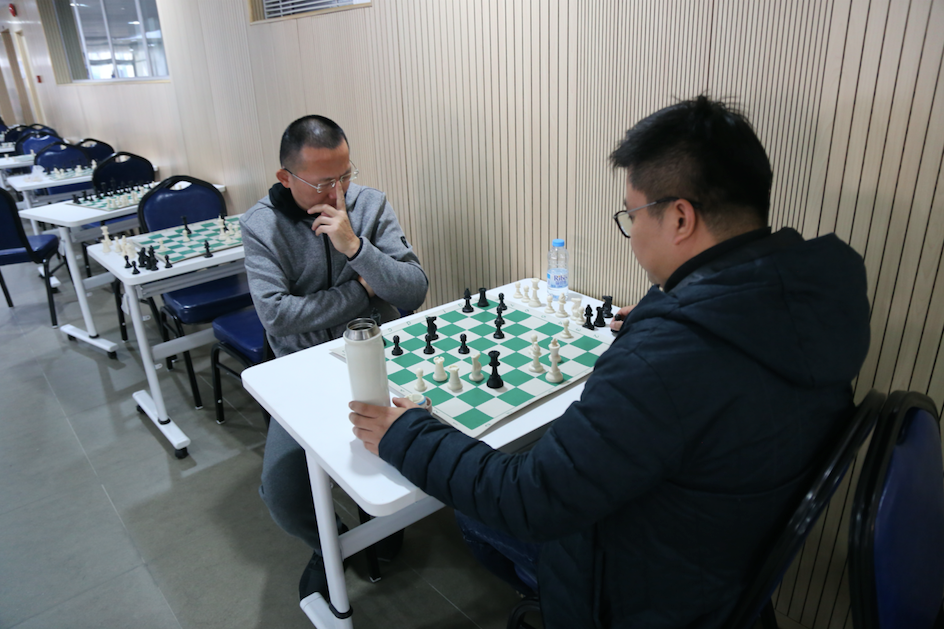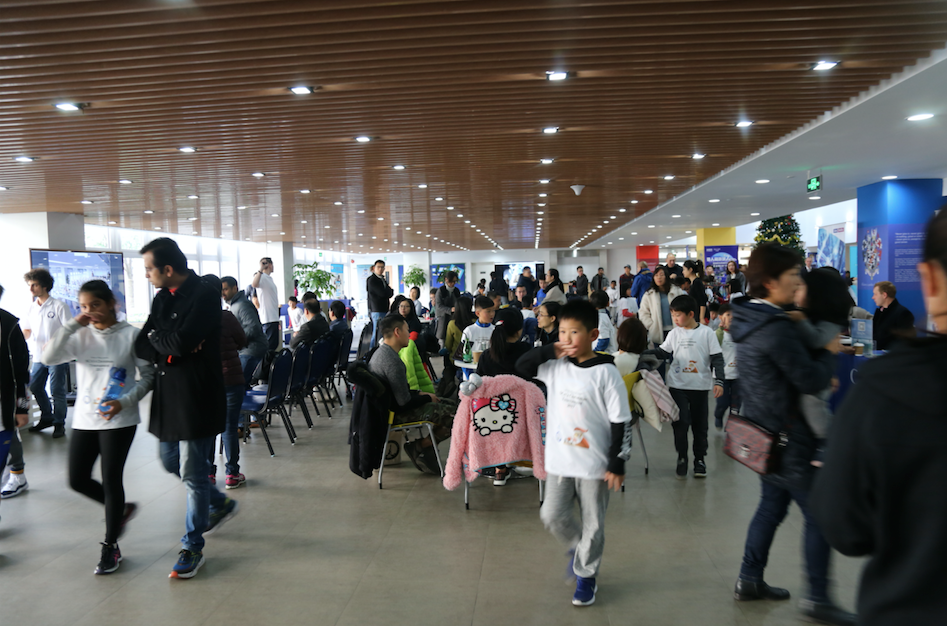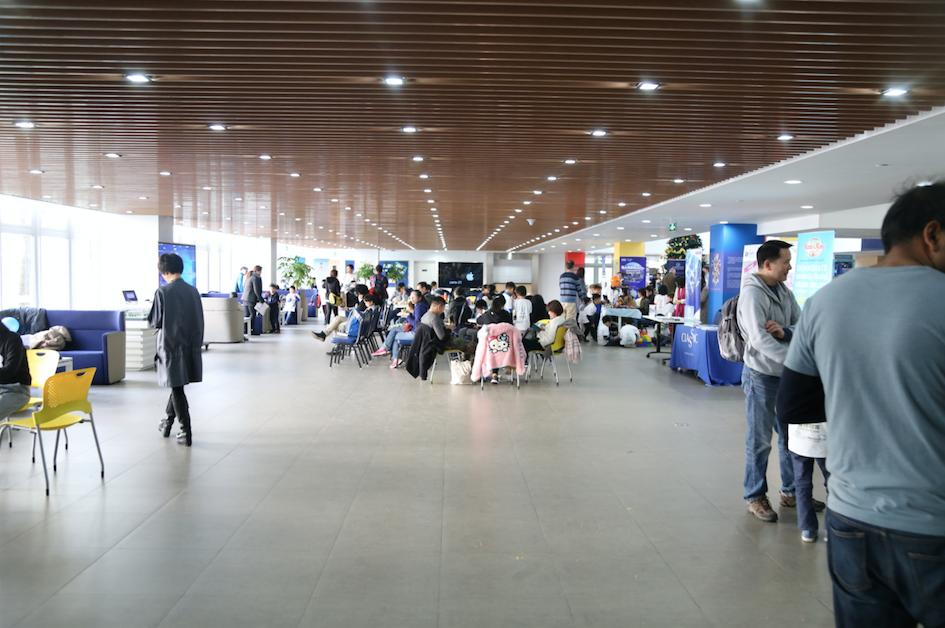 Commentary Station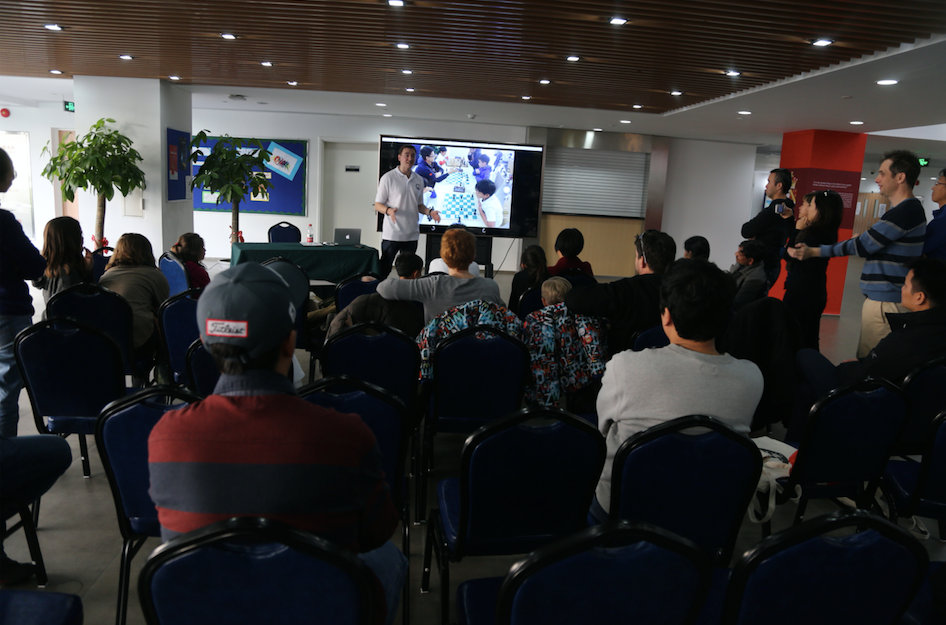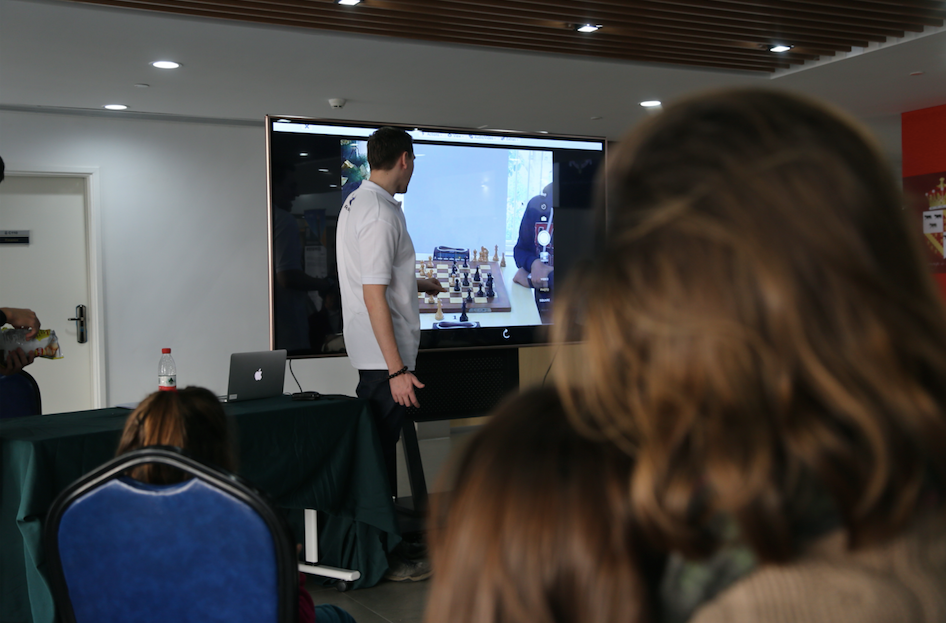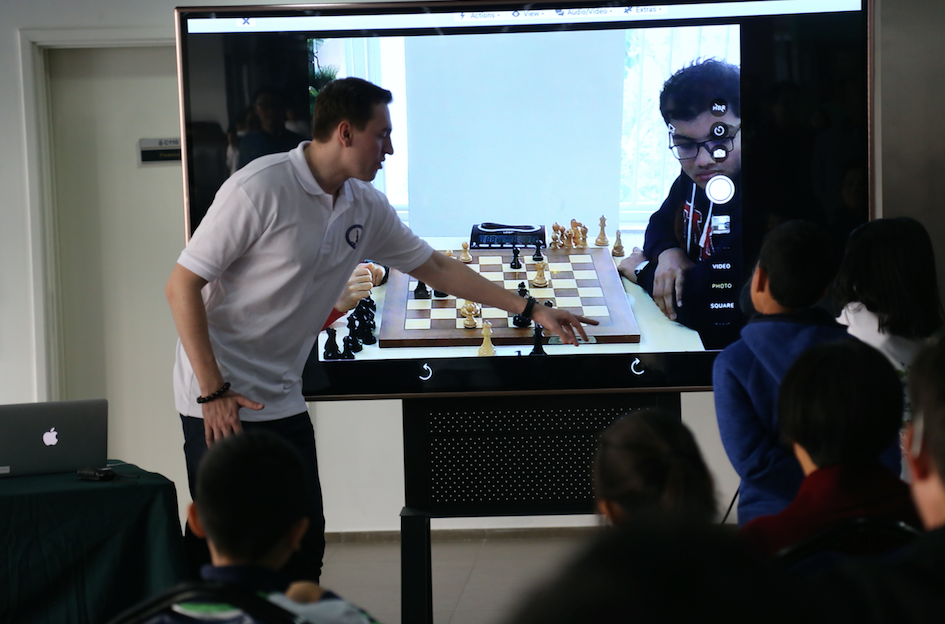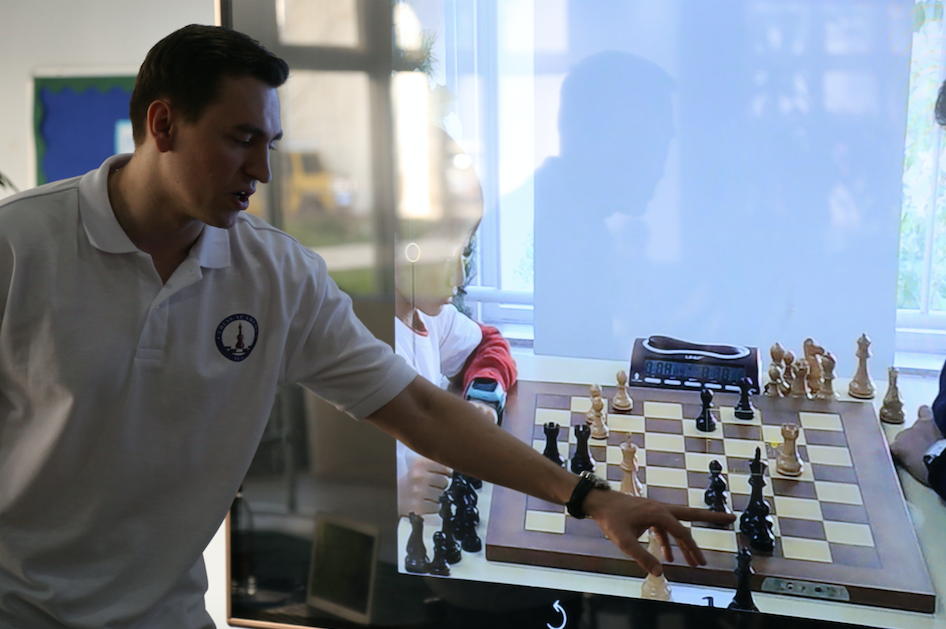 Closing & Award Ceremony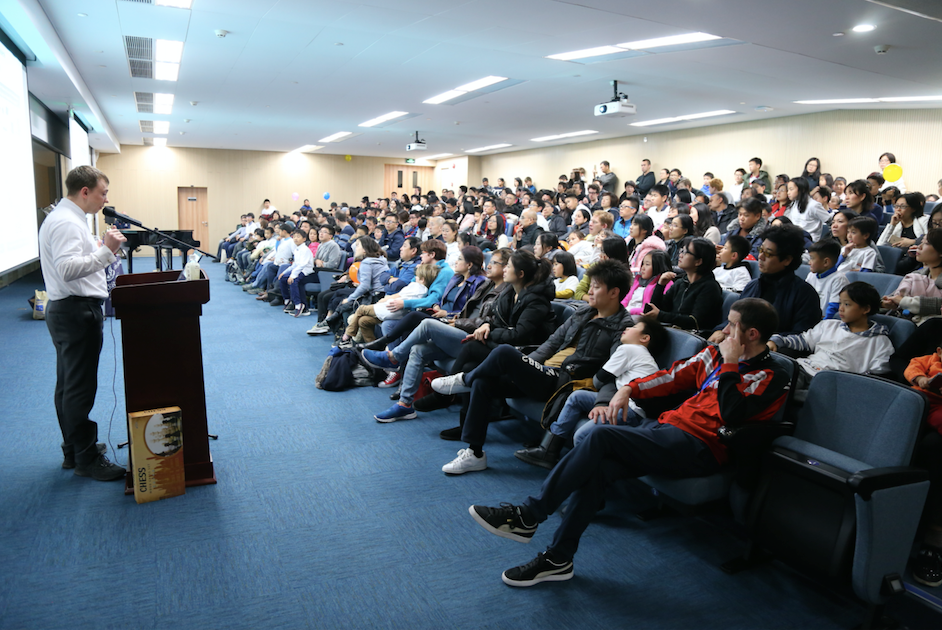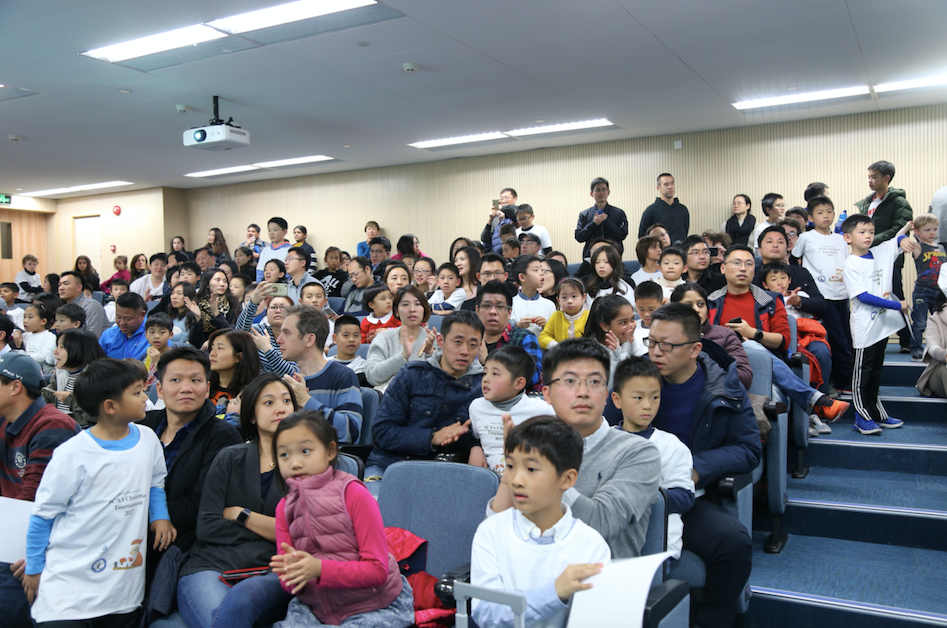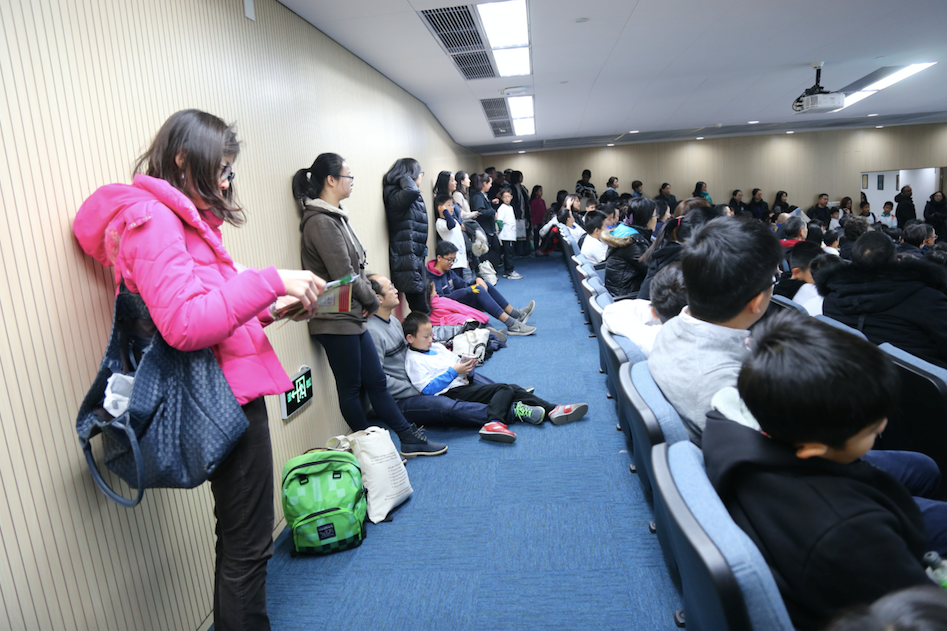 Categories
During the awards ceremony, trophies, medals and prizes were awarded for the top 3 individuals, the top 3 in age brackets under 10, 8 and 6 years old, the top 3 females, the youngest participant and the school teams.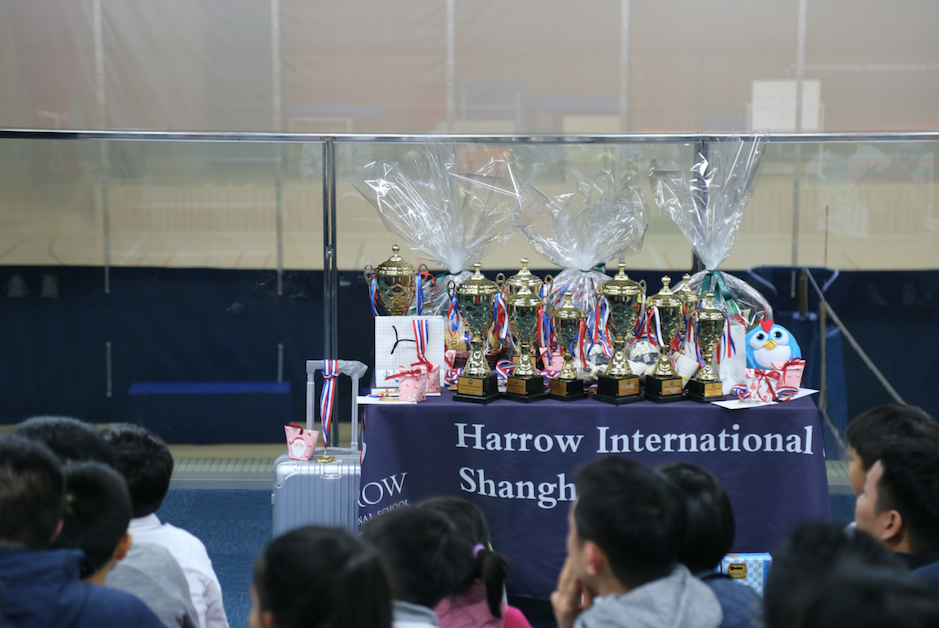 Individual Championship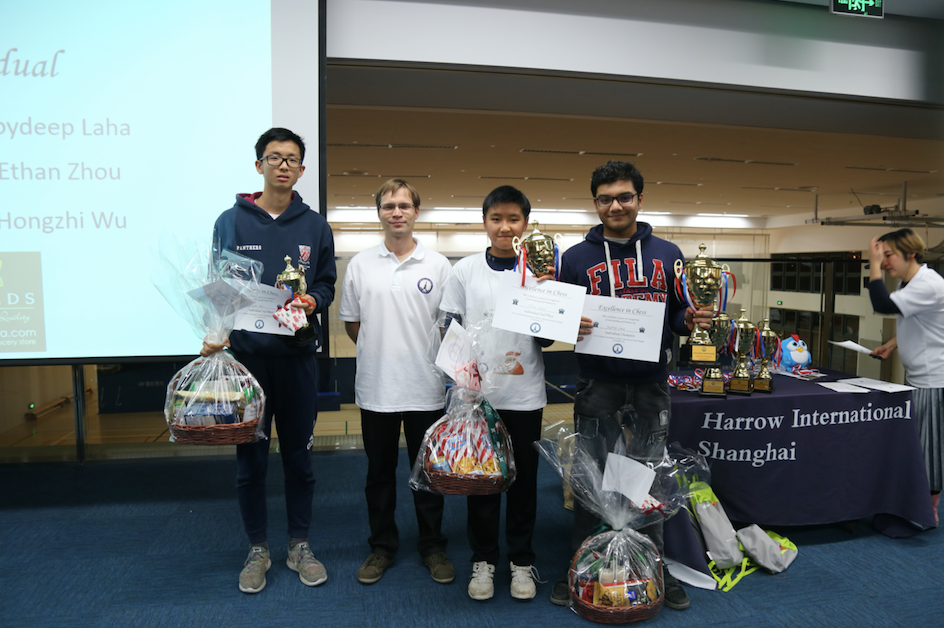 1. Joydeep Laha
2. Ethan Zhou
3. Hongzhi Wu
Reigning Champion and Tough Opponents
The championship was decided in the final round between undefeated Joydeep Laha and rising star Hongzhi Wu who dropped just half a point before the 8th and final round. Hongzhi, playing black, went all in right from the start sacrificing a piece to open white's castle. It might have been a bluff but it certainly created real trouble and if Hongzhi had only found a subtle manoeuvre with the rook from the other side of the board to join the fierce attacking forces then the outcome of the game would remain an open question. Joydeep managed to refute the sacrifice with a few very precise moves and even though the black player tried many tricks until the very end, the champion from previous competitions defended his title.
Ethan Zhou finished second place and lost just one game to the champion. It was a very close battle decided in the balanced end game when time trouble was the most decisive factor.
Female Championship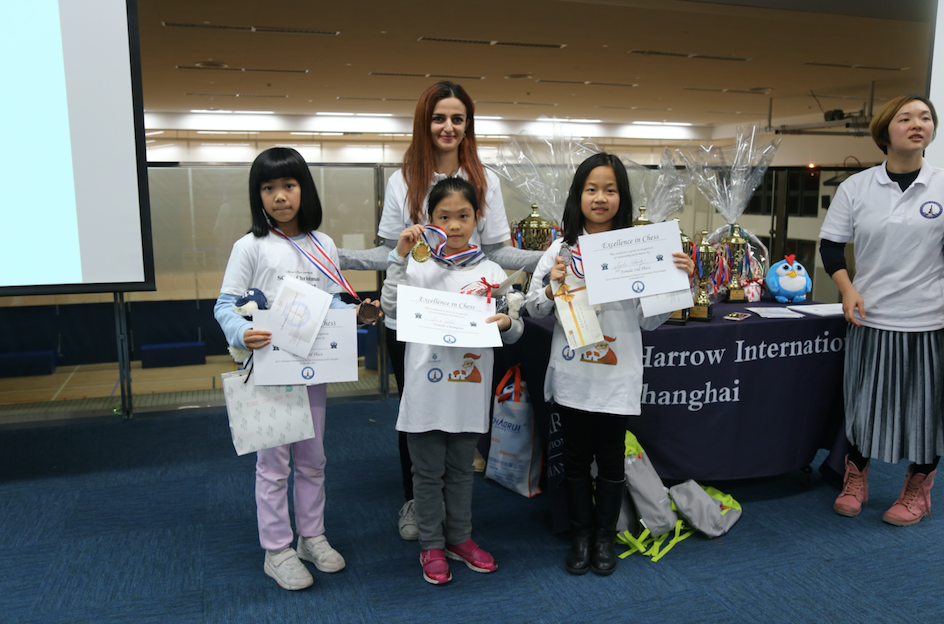 1. Eva Han
2. Apple Zhang
3. Emily He
The Female competition is growing stronger with each tournament and the title was decided by the smallest margin possible – two girls scored the same number of wins and first tie break points. Only the second tie break decided that Eva was ahead of Apple by half a point! This close competition was even more interesting given they practice together every Sunday in SCA's advanced class at Shanghai Centre.
Third place was a big surprise as Emily He was playing only her second chess tournament ever and was already in contention for the top places.
Under 10 Age Bracket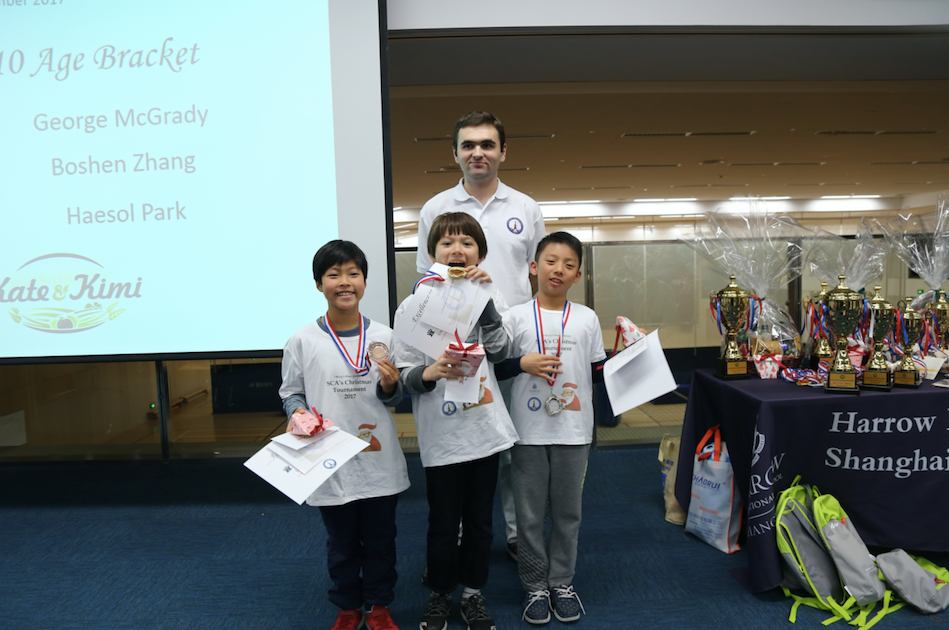 1. Ignatius Lau joint with George McGrady
2. Boshen Zhang
3. Haesol Park
Under 8 Age Bracket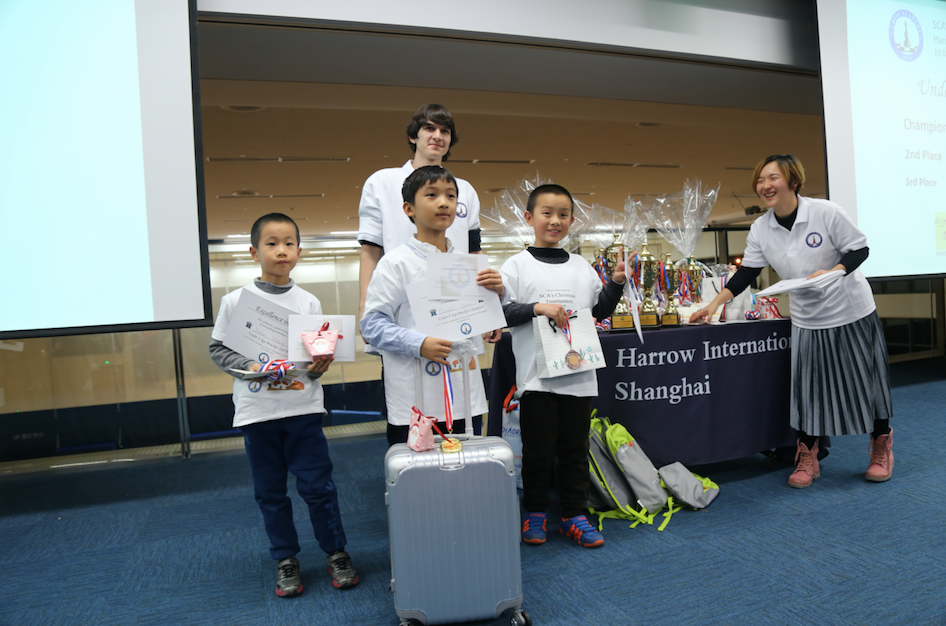 1. Donald Wen
2. Jason Wang
3. Morakot Zhang
Individual Championship – Under 6

1. Michael Lisio
2. Sebastian Lee
3. Victor Chen
School Teams
Champion Team
Shanghai American School Puxi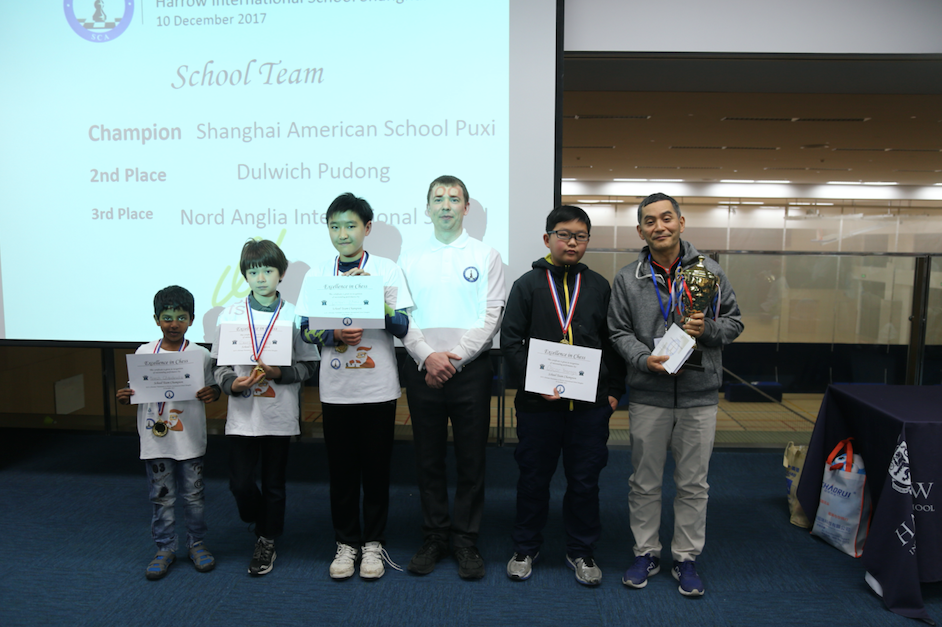 * Ethan Zhou
* Oscar Yasunaga
* George McGrady
* Hetesh Chandersekar
2nd Team
Dulwich Pudong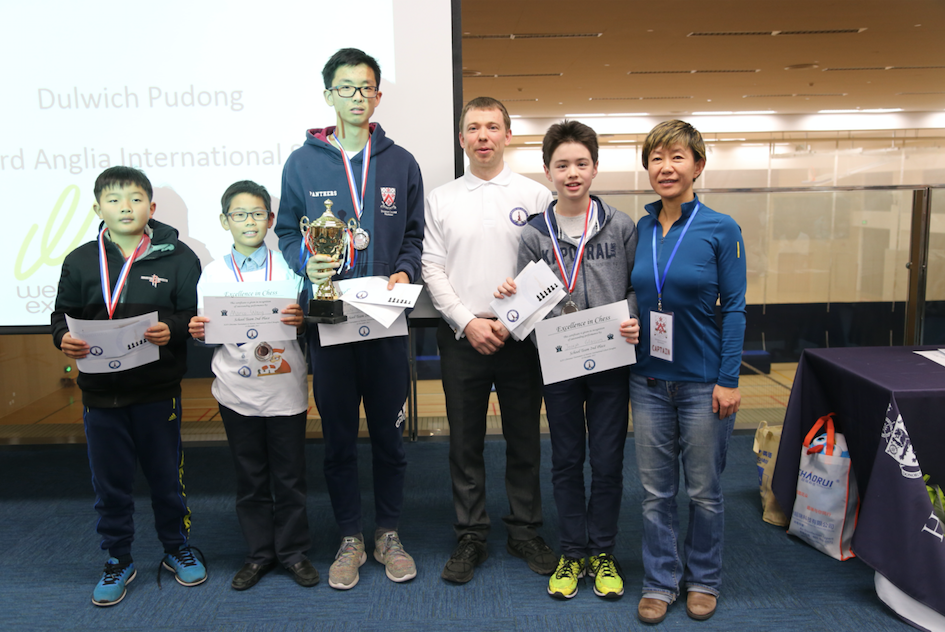 * Hongzhi Wu
* Ignatius Lau
* Joseph Glasson
* Marco Wang
3rd Team
Nord Anglia International School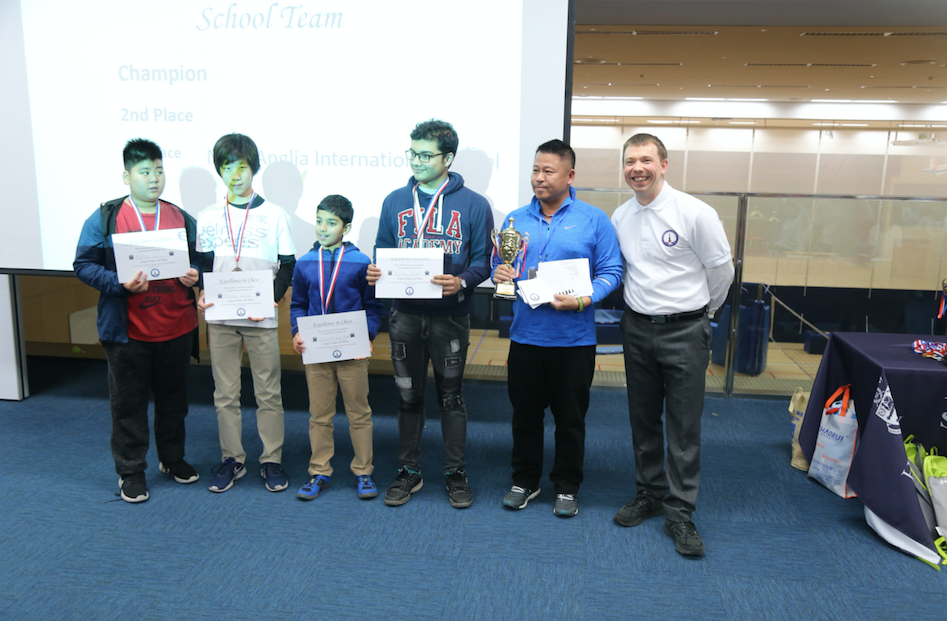 * Joydeep Laha
* Sidharth Sunil Menon
* Marcus Lo
* Minato Kuba
Under 6 – First Chess Tournament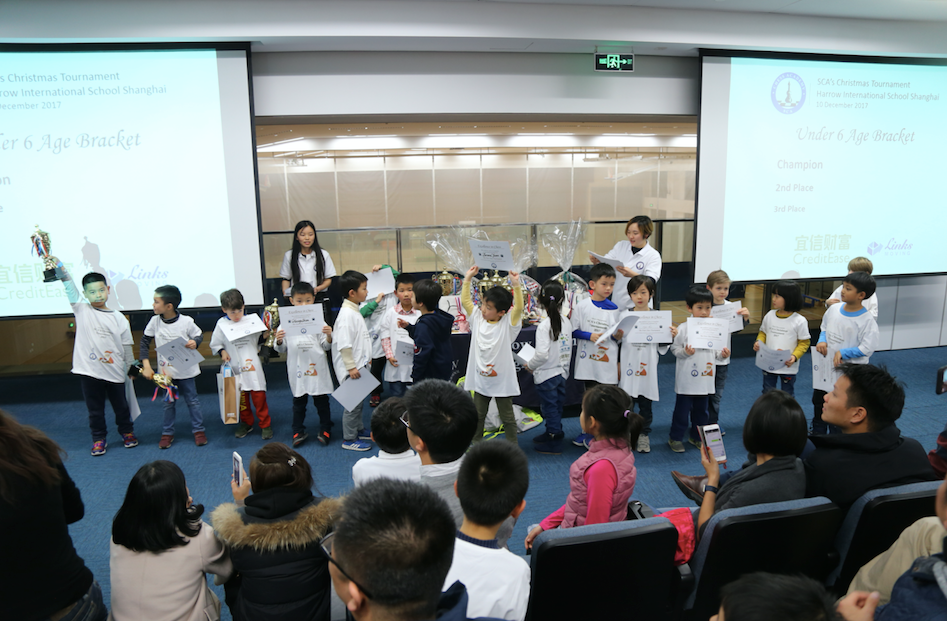 All Participants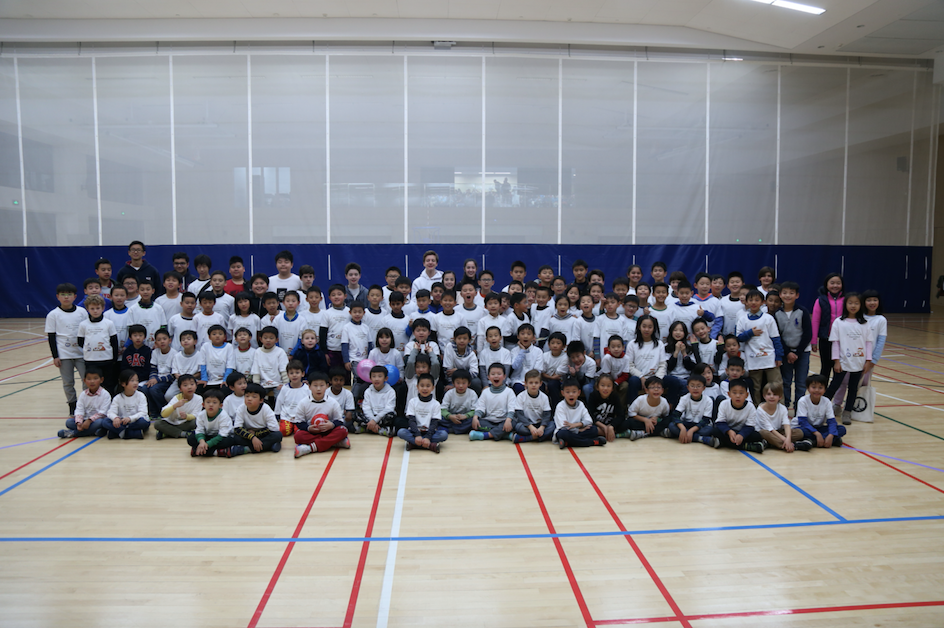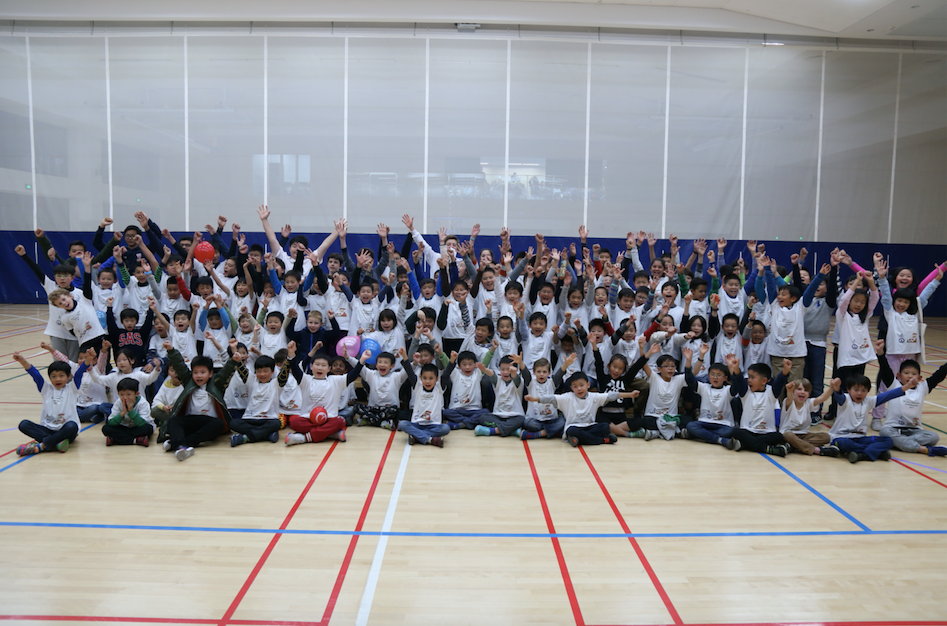 Standings
Open Standings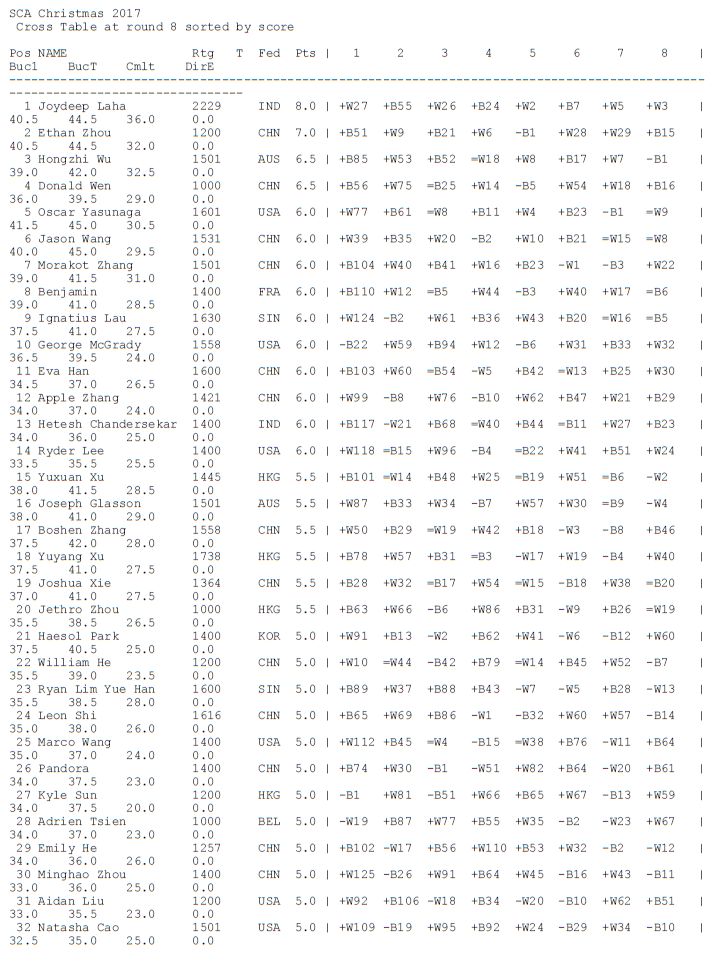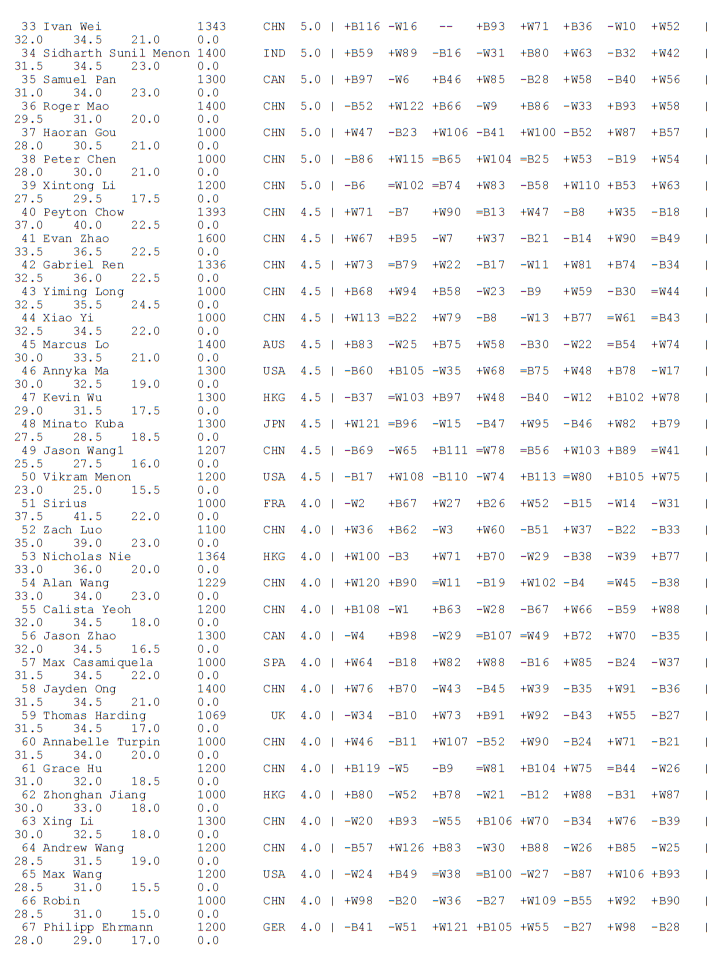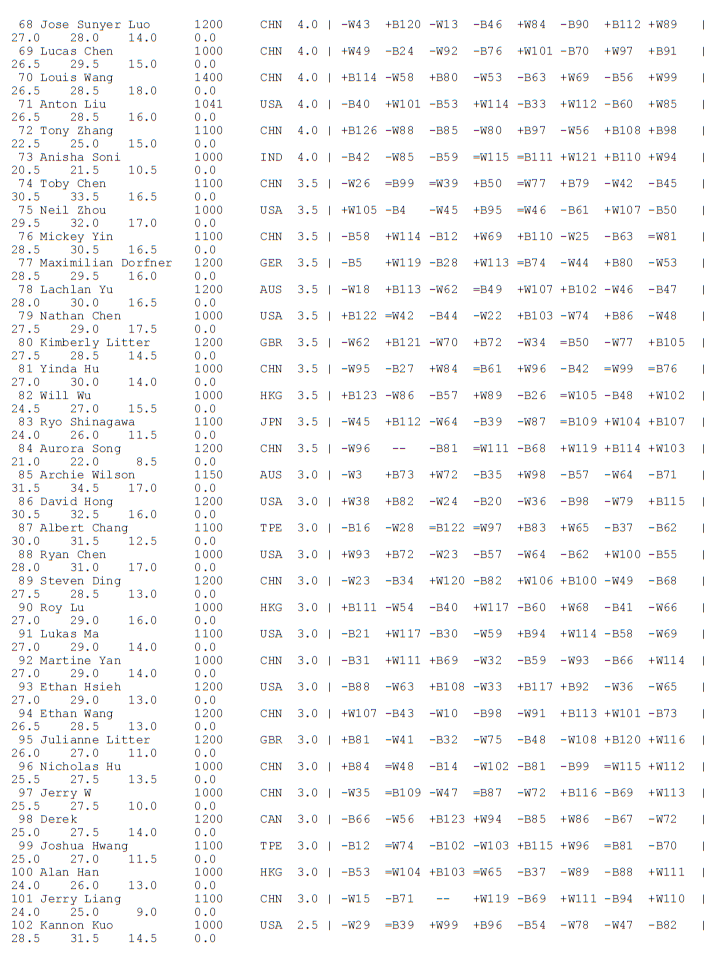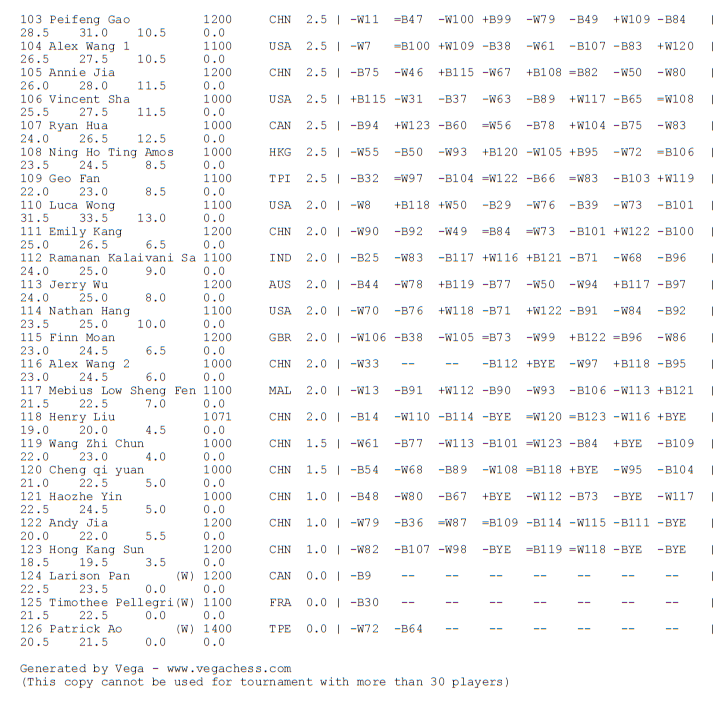 Under 6 Standings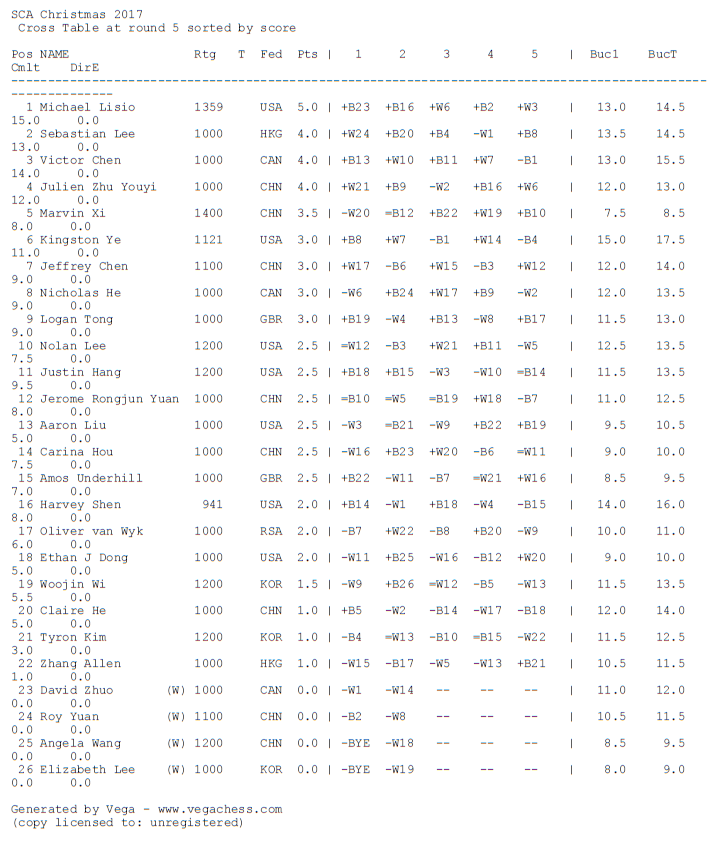 Under 8 Standings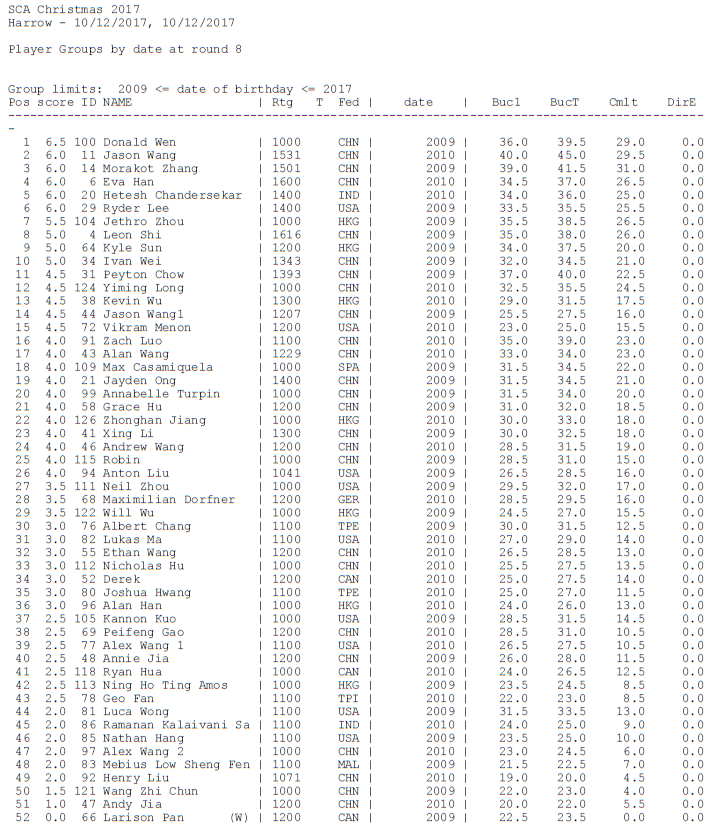 Under 10 Standings


School Team Standings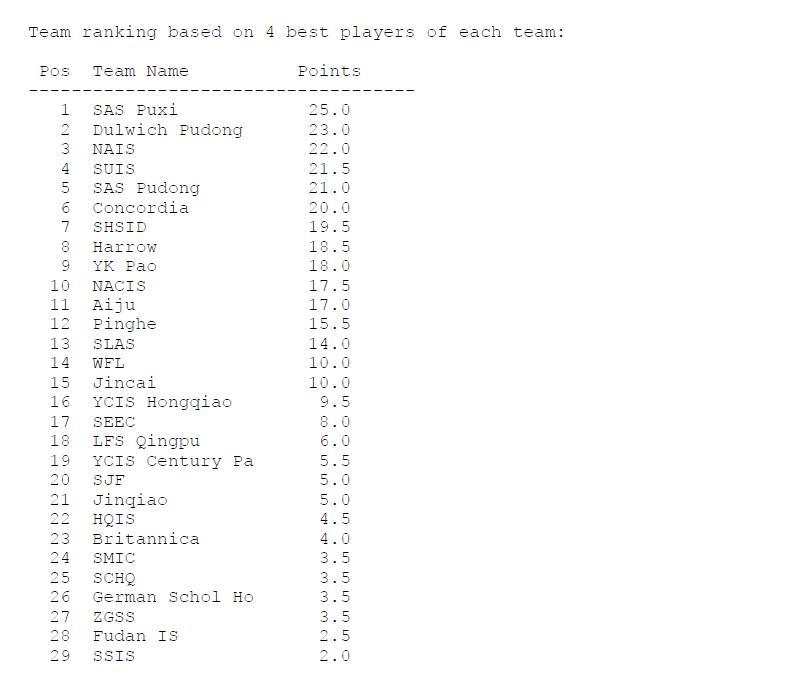 Thank you to our Sponsors


LIH Olivia's Place
LIH Olivia's Place provide world class, multidisciplinary pediatric therapy services to children of all abilities and all ages.
Website: www.oliviasplace.org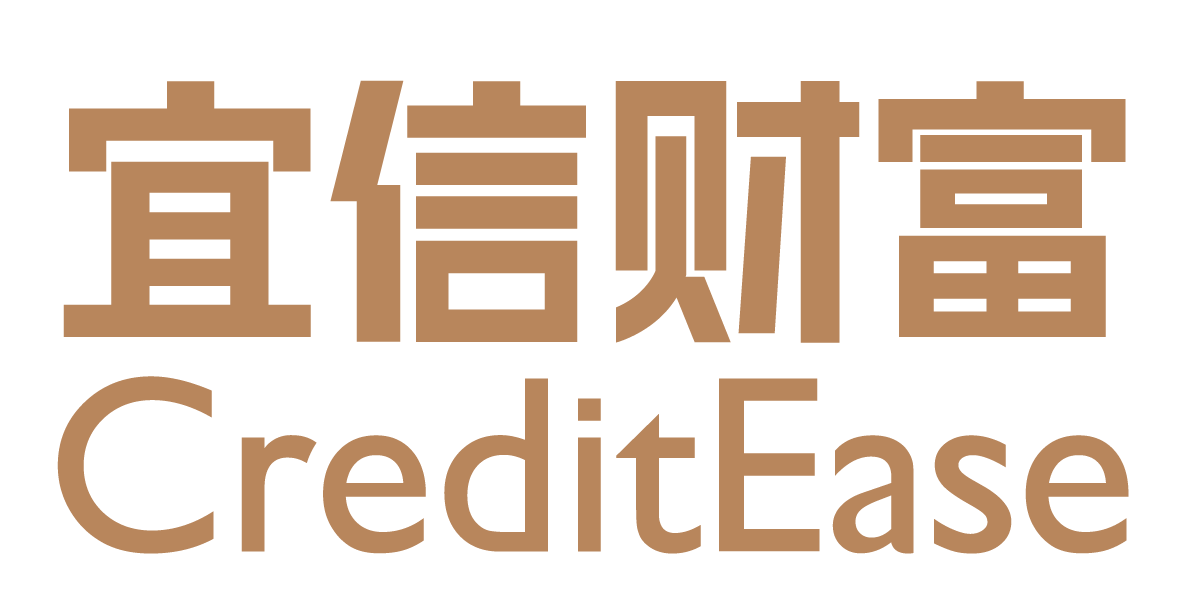 CreditEase 宜信财富
中国互联网金融行业的支柱之
宜信公司创立于2006年,作为从事普惠金融和财富管理事业的金融科技知名上市企业,以不断创新在留学,移民,投资等各个领域行业领先。
Website: http://caifu.yixin.com


Medic Filter
BREATHE CLEAN AIR & WE'LL PLANT A TREE
We strive to provide clean air for people around the world by manufacturing premium quality air filtration products and planting trees to improve our earth.
Website: www.medicfilter.com

St. James Place
St. James's Place is one of the largest wealth management companies serving the expatriate community living and/or working in Asia. We provide face-to-face wealth management advice to individuals, trustees and businesses to help them achieve their financial goals. We are a FTSE 100 company with £85.7bn of client funds under management and have offices in Shanghai, Hong Kong and Singapore.
Website: www.sjp.asia
Thanks to Our Prize Sponsors
Special Thanks to our Host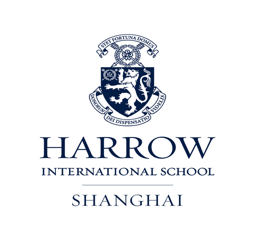 Harrow International School Shanghai
Please check here to see more event photos.