Online Webinar
A discussion of chess, education and children's development
Everyone is welcome to join!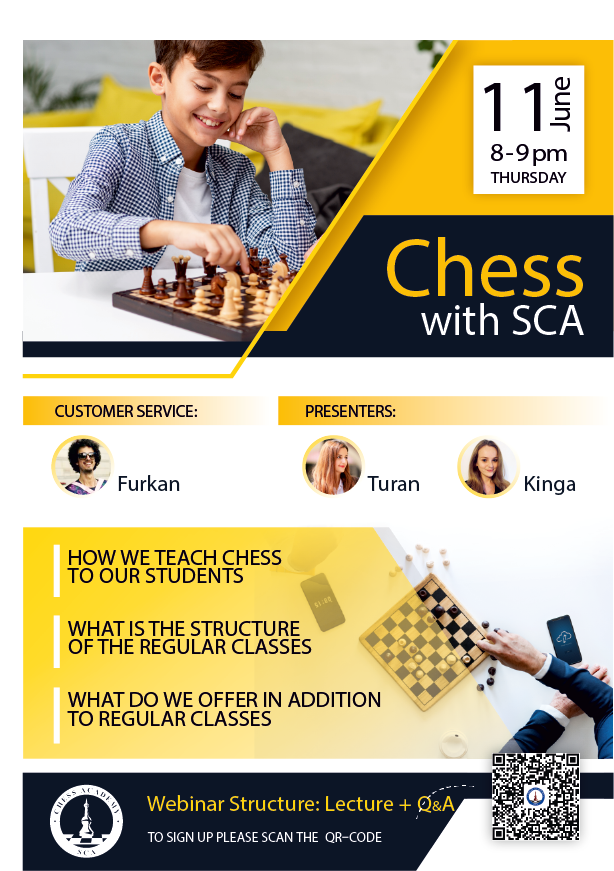 大家好!6月11日,教练Turan和教练Kinga会在为大家带来一场网络研讨会,跟家长们分享她们学习国际象棋的经历,以及带给她们生活和成长的益处。
在讲座中,教练们也会对SCA的教学体系做一个系统的讲解,欢迎家长们在问答环节踊跃提问发言,大家共同探讨如何能将课程效果最大化,让孩子们从国际象棋课堂中最大程度地受益。
这次的研讨会是面向大众的,无论是否参加过SCA的课程,都欢迎参加!
Hello everyone! On Thursday, 11th June, SCA will host a live webinar with Coach Turan and Coach Kinga. They will share insights from their own chess learning experience and explain how they have benefited from it.
During the lecture, the coaches will also give a thorough explanation of the SCA chess learning system. Parents are encouraged to pose questions and continue the discussion during a live Q&A session right afterwards. Let's discover how to maximize the effects of learning chess so that children can benefit to the greatest extent!
Everyone is welcome to join the webinar, whether you are a current member of SCA or not.
8:00—8:20:教练讲座,分享自己学习国际象棋的经历
8:20—9:00:家长问答,互动环节

8:00—8:20: Coach lecture, sharing chess learning experience

8:20—9:00: Parents Q&APresenter introduction 主讲人介绍: